We all value mentors... yet for some reason we always try to figure it out ourselves.

Are you unsure where to start or what to do?
Or frustrated that you've done all this work and haven't seen any profit?
Are you completely overwhelmed and haven't made any decisions at all?
Or disheartened that things aren't working out as you had hoped?
Are you weary because there are so many "online gurus" out there now and you're not sure if you can trust any of them?
I'm not here to sell anything to you, I'm here to help you get the RESULTS YOU'VE BEEN YEARNING FOR.
Everything that I teach I have implemented in my own blogging business, which is how I know my strategies work.
My confidence also comes from the success of my students.
Your success is my success.
If you don't learn anything at all from my courses (AND YOU'VE DONE THE WORK I'VE OUTLINED FOR YOU) return the course within 30 days and get a full refund.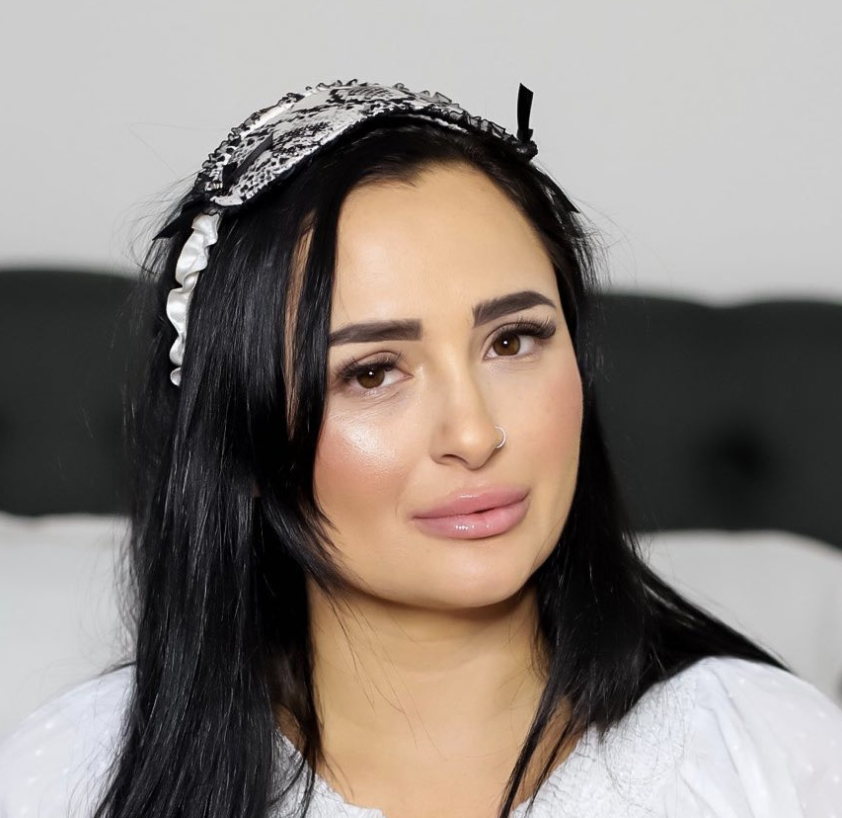 To be honest, I wasn't sure what I could learn from a blogging course since I thought of myself as an experienced blogger. But I couldn't have been more wrong. Not only did the LadyBossBlogger Blogging Course teach me how to reach my target audience and successfully market my blog, I was also able to land a partnership with my dream brand Crayola because of Elaine's course!
One of my favorite things about Elaine is her willingness to teach others how to be successful. She isn't like other bloggers I've seen who are unwilling to share their knowledge because they are afraid it will take away from them. Elaine was very real and honest throughout this whole course. You can tell she put her heart and soul into creating it and you can expect real results.
Since it's an online course, you can do at your own pace. So whether you're a busy student, work full time or a busy mom like I am, you can take this course whenever you get the chance. For me it was working during nap times, or when my daughter was sleeping. I am really grateful that Elaine created this, because it has allowed me to keep blogging while having time for my family.
-Stephanie Vainer
Have you been blogging for a few years? Or are you totally new to the blogging world?

I have had students who were total beginners to experienced bloggers take my course who have been SHOCKED at how much they have YET to learn about blogging professionally and profitably.
Would you like to continue scouring the internet for answers or shave off years of stress and uncertainty by completing the step-by-step blogging course I have put together for you?
Most bloggers start a blog... then try to come up with a strategy to make it a business.
Without a business plan + marketing strategy + profitable systems engrained in the FOUNDATION of your blog, you'll waste a lot of time spinning your wheels and backtracking to fix your blog's foundation so that it can be profitable.
It can still be done, but why not start NOW so you waste less time and make more money?
There is literally no better time than now.
You're not going to magically "have more time" in the future to dedicate to starting a blogging business... instead you have to PRIORITIZE and MAKE TIME NOW if you want to change your future.
"Where you are a year from now is a reflection and collection of the choices you make RIGHT NOW."
If you would have told me 3 years ago that I would own my own business and work from home full-time, I would have laughed so hard because I couldn't envision it... but now it is my reality, because of what I CHOSE TO PRIORITIZE.
Mark Twain said it best, "To change your life, you need to change your priorities."
I've taken that advice and have changed my own life around.
Taking action to learn something new is never a bad decision.
If what you've been doing HASN'T BEEN WORKING... it's time to TRY SOMETHING NEW.
Try my course out for 30 days.
If you seriously learn nothing, return it and get all your money back.
I'm taking out 100% of the risk to trying my course.
I'm also 100% positive that you'll learn a lot more than you would have ever expected.
"YOU DON'T KNOW WHAT YOU DON'T KNOW."
While I offer a lot of free courses, I reserve the best content for my clients because I know what I have to offer is EXTREMELY VALUABLE.

But just to incentivize you today, you get 20% off your first course when you use promo code LADYBOSS20.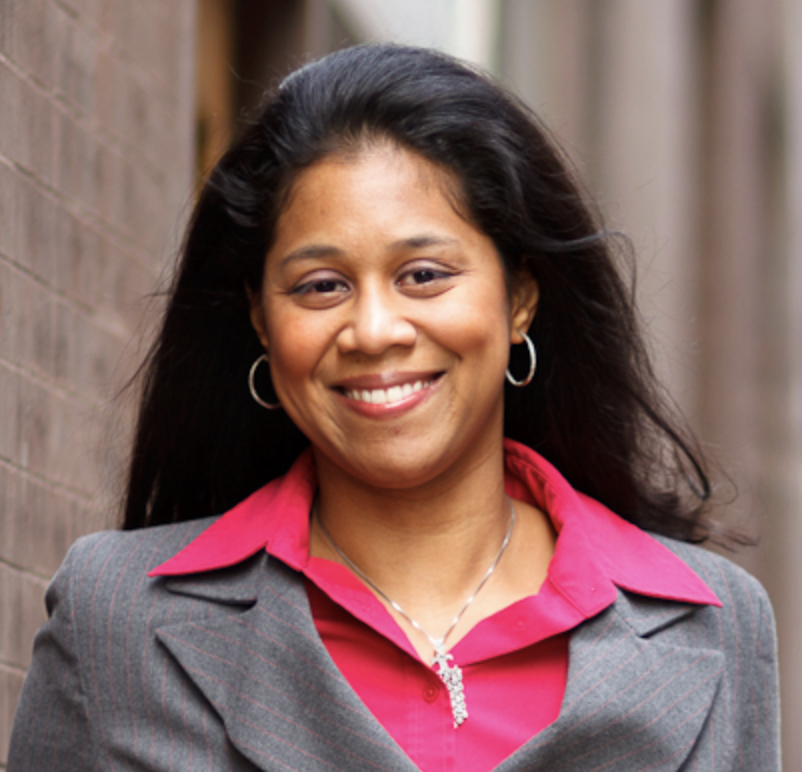 I had been following LadyBossBlogger for a while before I signed up for her free 7-Day Make Money Blogging email course. But just one day into it I decided to purchase her full course instead because she was having a sale.
I knew I needed to do something different with my business and that starts with investing both time and money to see it grow.
After I signed up for the course, I joined the Free Facebook Group and found an accountability partner and have also completely rebranded my blog! Elaine and her team are so awesome and they do respond to your emails!
- TeMeka Williams
Mini lesson #1:

Let your audience direct your blog.
Even if you have an audience of 5 people, treasure and serve them diligently.
Your audience will determine if your blog thrives or dies.
If you learn how to listen to them, you'll be successful.
Mini lesson #2:
Your email list is your biggest asset and biggest money maker IF you're strategic about it and have a plan of action.
Mini lesson #3:
If you want organic traffic, learn what SEO is and how to implement it asap.
It isn't scary or even difficult, you just need to know the right steps to do because SEO is something that builds, so the earlier you start doing the right things, the better your blog posts will rank in Google's search engines.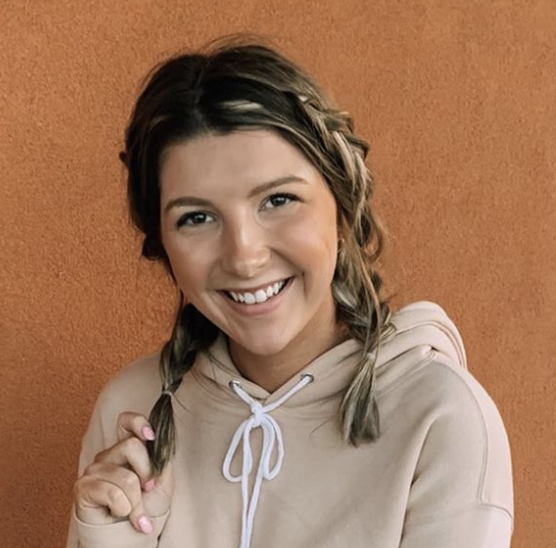 I have been blogging for almost 9 months and LadyBossBlogger's course was so helpful in getting myself out of a content rut! She had all the tips and tricks to getting my blog running smoothly. She also helped me figure out the dreaded SEO, now I have a complete understanding of it and how to do it!
This course would also be amazing for someone who has just started out blogging! It touches on how to find your niche and how to promote your blog. Finding your niche is so important because that allows you to grow in the most organic way possible! It's equally great for more experienced bloggers if you haven't been able to make real money from your blog yet.
The course teaches you how to promote your blog by making the most out of your Pinterest account and even how to grow your email list! The "How to Start a Money Making Blog" course changed my blog for the better!
- Katelyn Thomas
Blogging is like trying to lose weight.
It takes time and requires motivation, concentration and dedication.
What is the most efficient way to lost weight?
When you have a personal trainer or accountability partner to help you along the way.
What is your biggest asset in life?
YOUR TIME.
It's the one thing you can't "make more of" or "get better at".
How can you use your biggest (yet limited) asset to build another asset?
Don't waste your precious time!!!
Learn from those who have gone before you... who want to help you (this is key).
Blogging is a SKILL you can DEVELOP with the right training.
Starting a blog is the best decision you can make towards living a happier and financially free life...
IF you know what you're doing.
It's a TON of work and the "happy and free part" won't happen tomorrow, but if you start TODAY I can guarantee you won't regret it.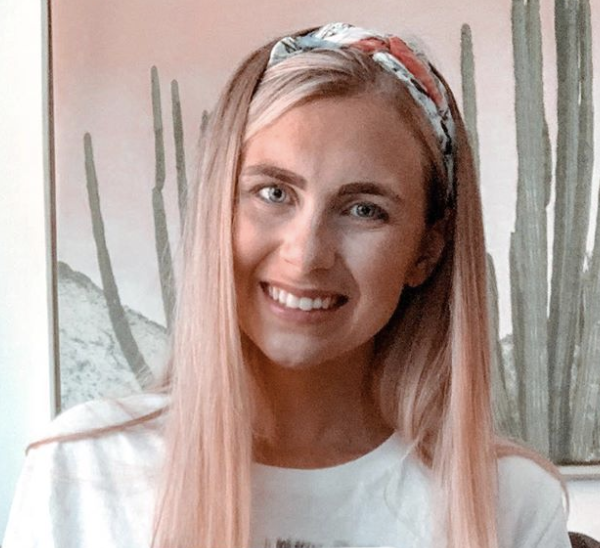 After one month of implementing what I have learned in this course, I have seen some INCREDIBLE RESULTS that I know will continue to compound over time!
My page views are up 20% in just one month! Craaaazy. Google is now a huge source of my traffic! And it will continue to be a huge part thanks to my improvements in SEO! Now that I know what I'm doing, my page views are only going to continue to grow... and that is all just the tip of the iceberg!
This course is so detailed, so jam-packed, if you follow all the steps laid out for you, it's almost impossible to NOT make money! Making it 100% worth the cost!
I was a little unfocused and unclear about what I was doing and who I should be targeting before taking this course.I now have a set aside time everyday to tackle my newly prioritized tasks in order to serve my audience and attract quality readers to my blog!

- Katie Marshall
If you truly learn nothing, return the course within 30 days and get a full refund.
That is how sure I am that you'll get the results you've been yearning for.
I had no idea the opportunities that blogging would bring me until I bought my website, LadyBossBlogger.com less than 3 years ago.
Think 3 years from now, where do you want to be?
Will anything change if you don't take action to learn something new?
NOTHING comes from INACTION.
A dream will stay a dream unless it's FORMED into your reality.
Vicky was spinning her wheels since 2012... until she took my course!
You don't have to go about blogging all by yourself.
Get this course and get an accountability partner too!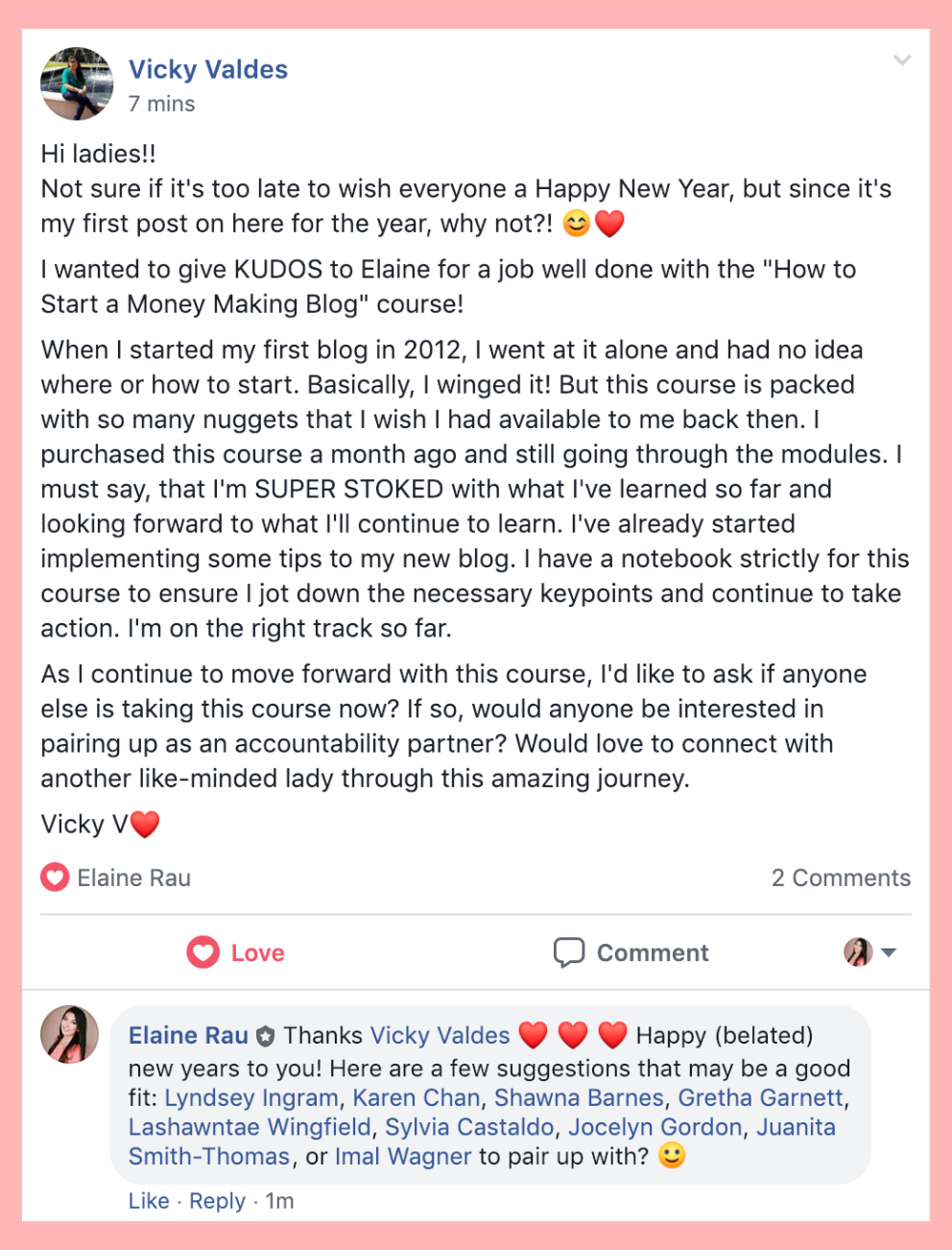 Are You Ready?
Let's begin!
Your Instructor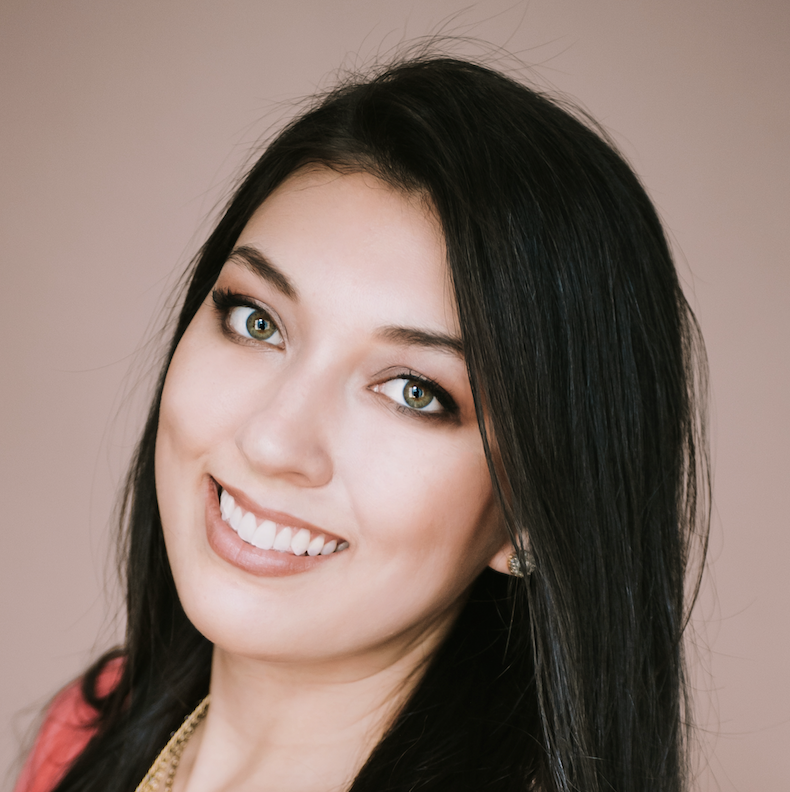 Click on the little down arrow below to see the entire course curriculum.
It looks like this:

Course Curriculum
2. Discover Your "Why"
Available in days
days after you enroll
3. Find Your Niche
Available in days
days after you enroll
Frequently Asked Questions
What format will the course be delivered in?
Written so you can read it any time without having to worry about headphones or clunky formatting. We do have video coming soon too in order to supplement the text.
When does the course start and finish?
It is a completely self-paced online course - you decide when you start and when you finish.
How long do I have access to the course?
After enrolling, you have unlimited access to this course for as long as you like - across any and all devices you own.
How quickly will I get results?
Depends on how quickly you go through the course and implement the strategies. Result times vary because everyone has different goals.
What if I am unhappy with the course?
We would never want you to be unhappy! If you are unsatisfied with your purchase, contact us in the first 30 days and we will give you a full refund.
It's a lot of money... is it really worth it?
Most successful bloggers charge $200/hour for 1-on-1 coaching. How important is living a financially free and independent life to you? The fastest way to get from point A to point B is by having a mentor to show you exactly how to get to where you want to go.
Can I find this information for free online?
Nope! The information you'll find online skims the surface, there is a reason why people sell courses because they don't give away their best information for free. If you want deep blogging knowledge (that actually works) it's in this course.
Do you ever update the course?
Yep! As the blogging industry morphs and changes, the course will too. This is why I love online courses because unlike physical books, they can be updated and distributed immediately.