Anyone can start a blog that generates $0.
But do you know why only 9% of bloggers are actually profitable?
BECAUSE IT'S HARD, it takes TIME and more than anything, it takes the RIGHT STRATEGY.
Most bloggers start a blog then try to come up with a strategy.
Without a business plan + marketing strategy + profitable systems engrained in the FOUNDATION of your blog, you'll waste a lot of time spinning your wheels and backtracking to fix your blog's foundation so that it can be profitable.
Instead of digging around the internet, I've compacted everything in one place so you DON'T WASTE TIME.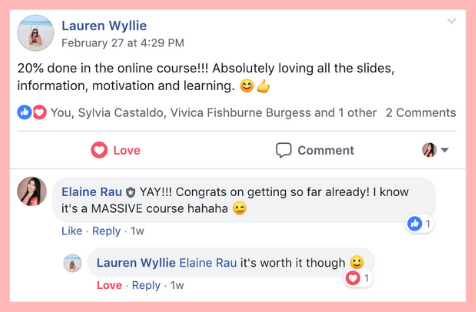 In order to BECOME A PROFITABLE BLOGGER from week one, you're going to need a:
1. Business plan

2. Strategic blogging strategy
3. Set obtainable and measurable goals
4. Create profitable systems
5. Find a coach who has accomplished what you want to show you the ropes (that's me!)
6. Get accountability partners to help you stay motivated along the way
This course includes all of the above and more!
I'm here to teach you how to start a successful online business, not just a blog.
You'll also learn how to create multiple income streams from blogging + beyond.

Recently launched LadyBossBloggerShop.com because my student Lyndsey Ingram (above) asked for it! And in my course I'll show you exactly how to create and launch your own e-commerce store like I did in under 2 weeks.
In business there are strategies that work, and ones that don't.
I'm going to take the guesswork out for you.

I started making money just ONE WEEK after I started my blog.
My first month I made $72, second month $265.71, third month $443.17 and it kept growing until I was averaging more than $1000 a month within just 6 months of starting my brand new baby blog.
How?
It wasn't the most typical way bloggers normally start, but what I did was sell interviews spots on my blog.
I've since created multiple income streams from blogging, but that's how it all started!
Back to the blog's origins... WHY did I start my blog?

I was desperate to make money online because I was close to broke and living in a developing country where I couldn't find work. Plus to top it all off, I felt totally purposeless AND passionless.
How did I get to that point?
I loved my job as the National Wedding Sales Manager and was making really good money, however, my life completely changed directions after one phone call. My fiance's brother had been missing for a week... and he called to tell me that his brother had been murdered.
I immediately asked my boss if I could go to the funeral... and he said NO, because it would affect SALES. So I quit and moved to Honduras to be with my fiance's family, but the transition was a lot harder than I had anticipated.
How did I dig myself out from my downward spiral?
I knew I had to reinvent myself since my "wedding industry skills" were useless in Honduras, especially since I didn't speak a word of Spanish.
So I decided to try something new.
I decided to start a blog to learn about who I wanted to become: a
LADY BOSS BLOGGER
. And that is exactly who I became.

Key word here is "TRY" - if you don't try new things, you'll never know if they can work for you.
Try this course out for 30 days, if you seriously learn nothing, return it and get your money back.
But if you buy it, like it, do the work I have outlined for you and learn from it, I promise it will change your life because this course will start to change the way you THINK.
To become an entrepreneur, you must think like one - all the entrepreneurs I know invest in themselves by investing in education.
How did you learn everything you know up until this date?
Probably Google, right?
Instead of scouring the internet to piece together a plan that may or may not work, I've created one that does, all you need to do is complete the work.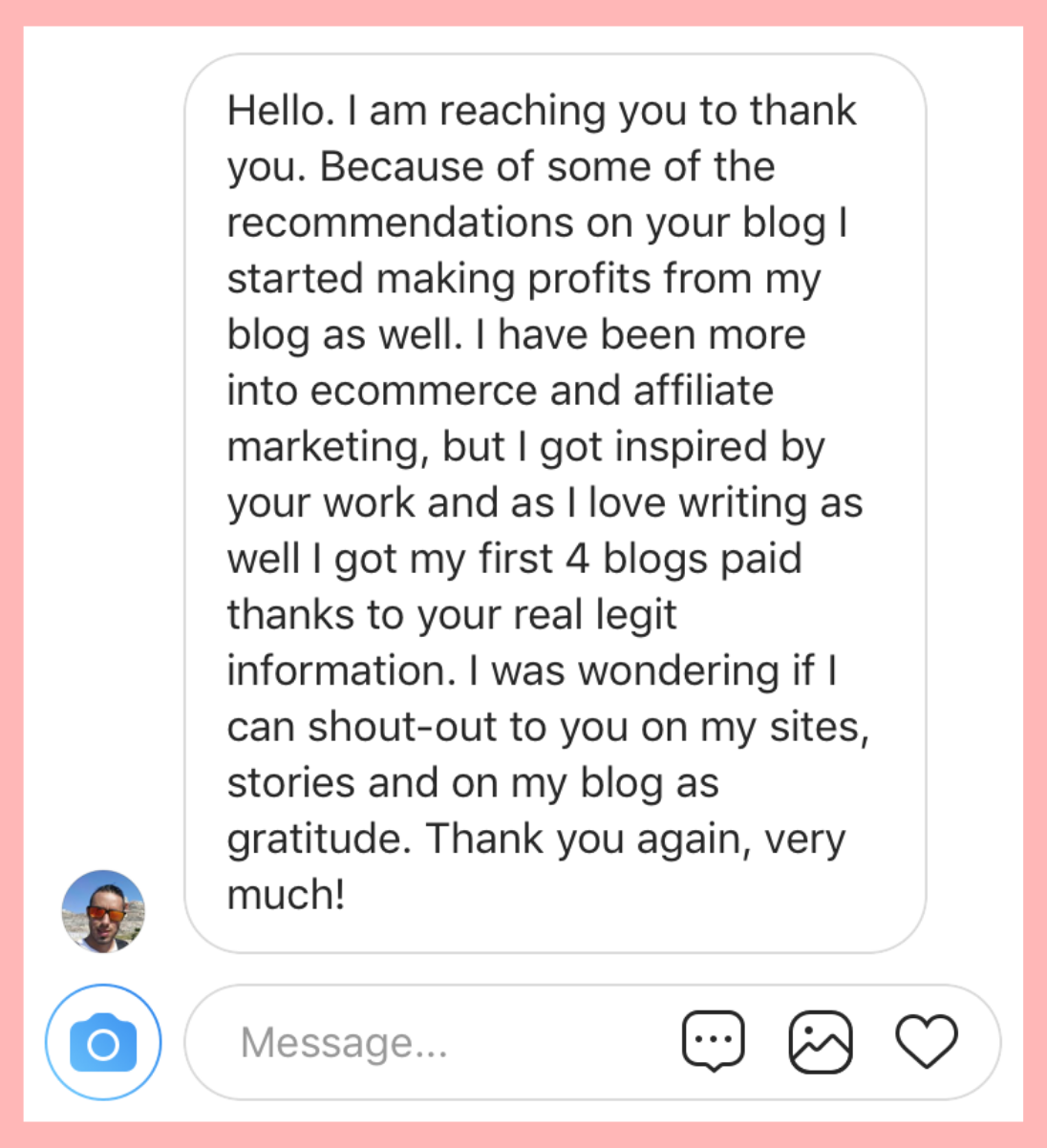 Now, I know it's a MASSIVE course... but instead of purchasing separate courses on:
1. How To Build An Engaged Audience With Raving Fans
2. How To Create A Brand That Actually Gets Noticed
3. How To Get Your First 1000 Email Subscribers
4. How To Gain A Massive Social Following Quickly
5. How To Properly Set Your Blog Up For SEO
6. How To Create Money Making Content
7. How To Create A Money Machine Via Email
8. How To Stay Out Of Legal Trouble As A Blogger
9. How To Get Massive Traffic To Your Blog ASAP
10. How To Make Your First $1000 Blogging
I have everything in one place for you... and all the strategies actually work!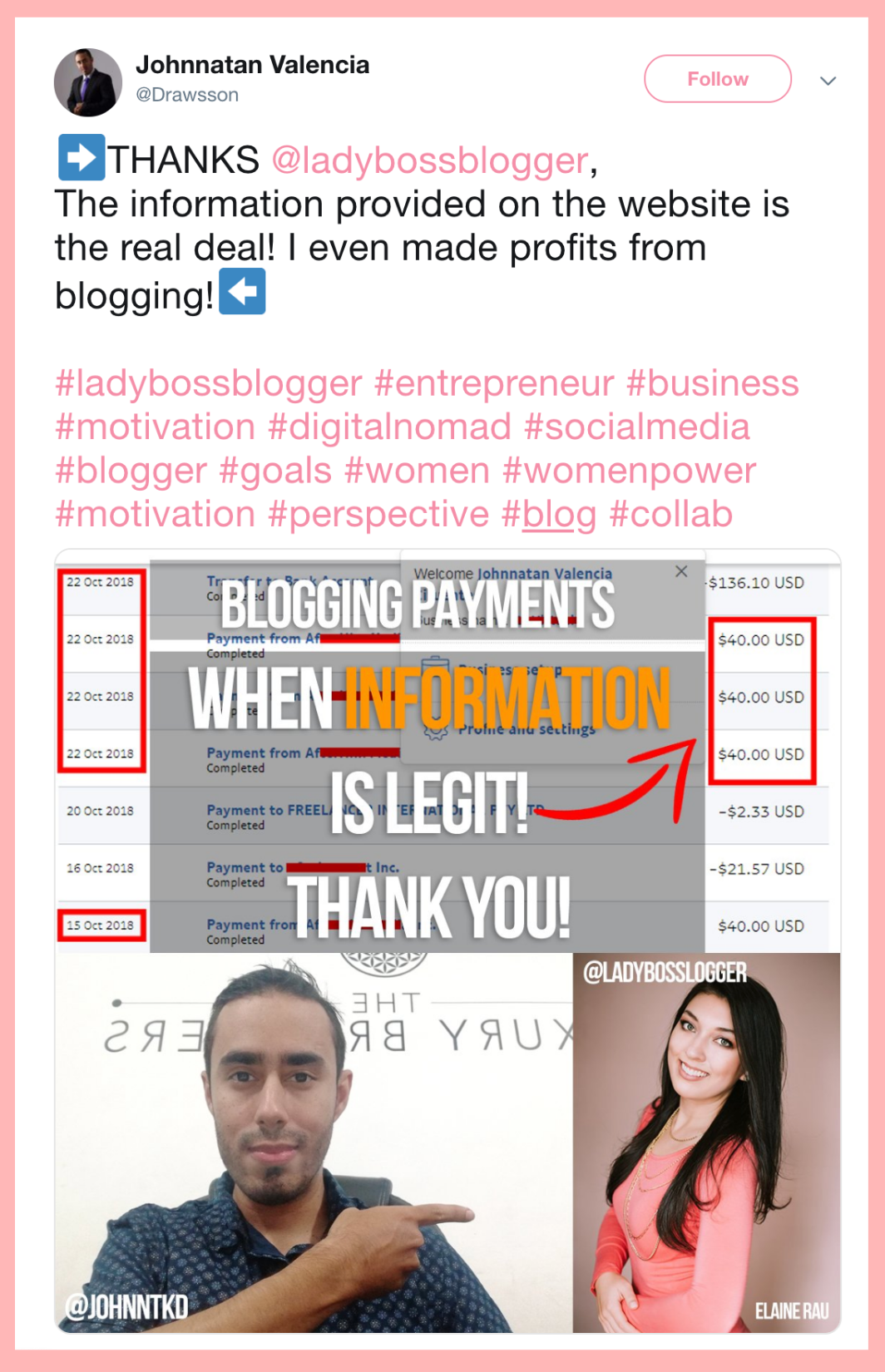 If I provide value on my blog, you know that I'll over deliver in my course. ;)
If you want to become a...
1) Fitness + Weight Loss Blogger
2) Health Blogger
3) Dating + Relationships Blogger
4) Pet Blogger
5) Self Improvement Blogger
6) Finance Blogger
7) Beauty Blogger
8) Gadgets + Technology Blogger
9) Parenting Blogger
10) Fashion Blogger
11) Travel Blogger
12) Lifestyle Blogger
...you're in the right place, because these are all extremely profitable niches you can tap into and I will show you exactly how to monetize each of them.
But even if your niche isn't represented, there is still money to be made!
The strategies I teach apply to any niche.
In the example below, Kylie was successful in starting an Anti-Blogging Blog.

In less than 2 years I gained 150K followers and 10K email subscribers.

HOW did I do that?
It's all in the DAILY actions you take.
If you know exactly WHAT to do, you'll be a lot more efficient in accomplishing your goals.
And I show it all to you in my course.
Mini lesson #1 - Monetizing your blog is less about followers and more about FANS.



A little context about the image below: I commented with some blogging advice on one of her images.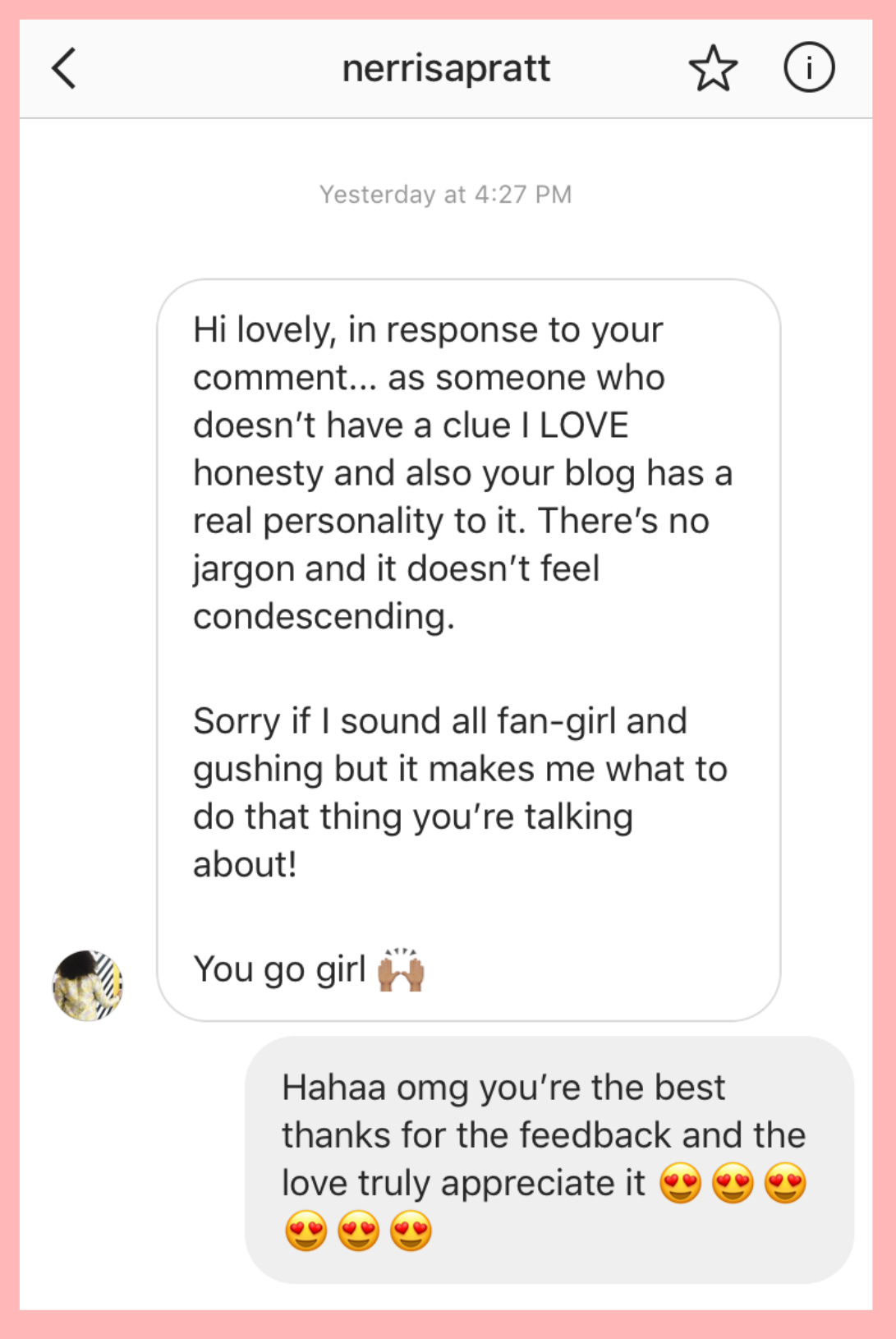 I created this monster course because my post "12 Most Profitable Niches For Making Money Online" WENT VIRAL!
So this entire course is built from that crazy response... I listened to what my audience responded to!
Mini lesson #2 - Let your audience direct your blog.
You may not have a huge audience just yet, but this is important to keep in mind before you even start. Plus even if you have an audience of 5 people, treasure and serve them diligently and your audience will grow.
Your blog will honestly start becoming less about what you personally want to write about and more what your audience wants to hear from you.
This may be a scary thought, but it's what all successful bloggers have done.

In fact, after loads of people on my list told me that they wanted to see videos content from me, I finally started a YouTube channel. I'm still working on being comfortable in front of the camera, but practice makes perfect!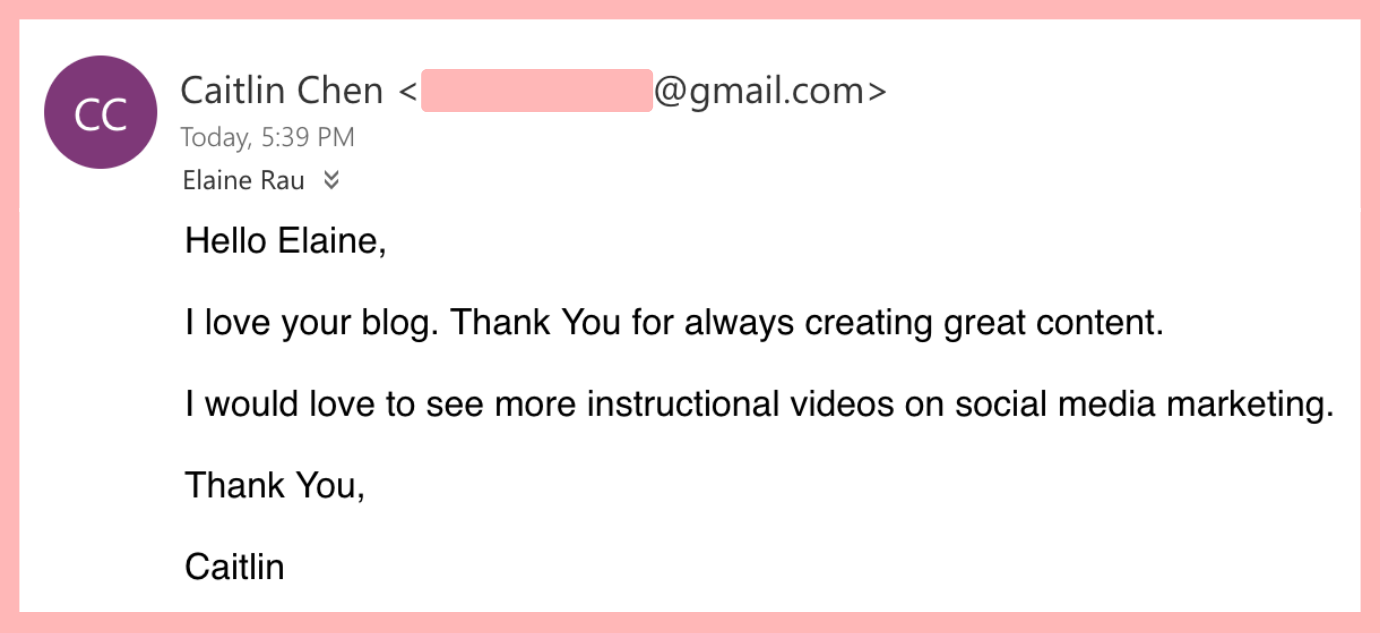 Did you know? I actually never wanted to blog about blogging.
I started out blogging about tips on entrepreneurship because that is what I wanted to learn myself and what I liked writing about, but along the way, I unintentionally created a really successful blog and that is what people wanted to learn from me.
Your audience will determine if your blog (and social media channels) thrive or die.

If you listen to them, you'll be successful.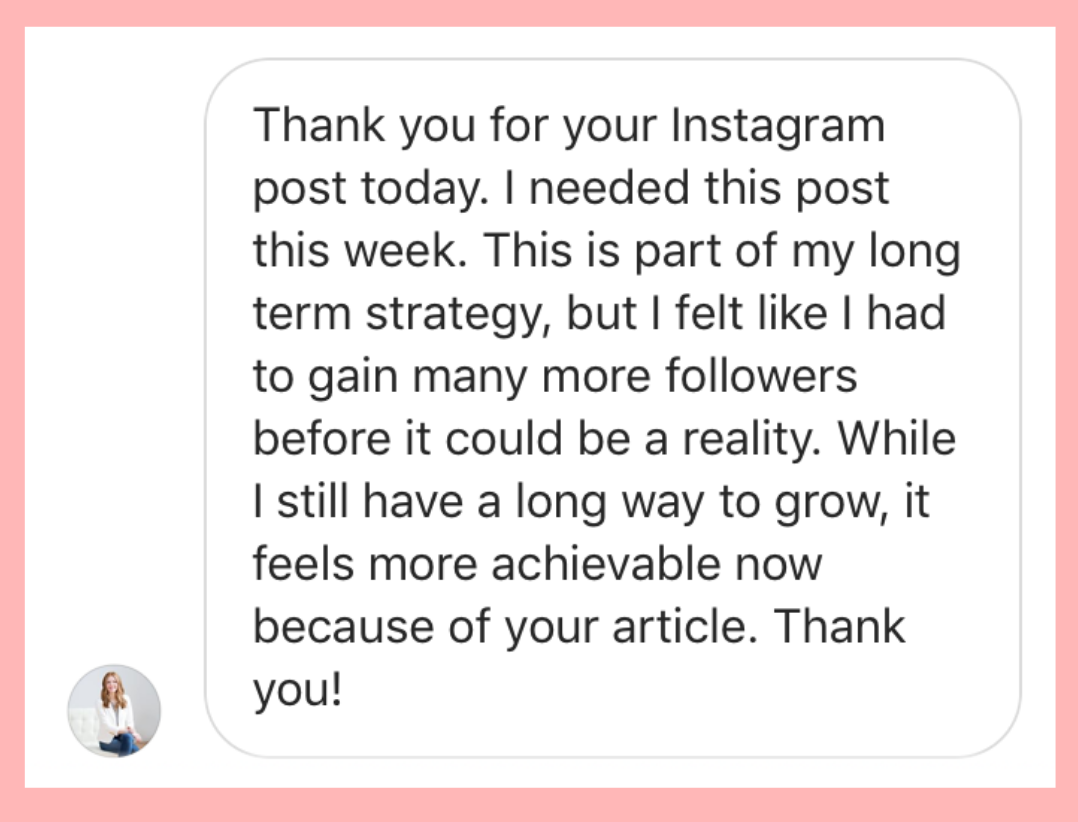 Mini lesson #3 - Start your email list NOW.
Having your own audience is going to become increasingly important as privacy laws keep on tightening and algorithms keep changing.
Your email list is your BIGGEST ASSET + BIGGEST MONEY MAKER... IF you're strategic about it and have a plan.
Your email list = your most attentive and loyal followers = your desired audience.
When raving fans love your work, they will talk about you for you and promote you for free!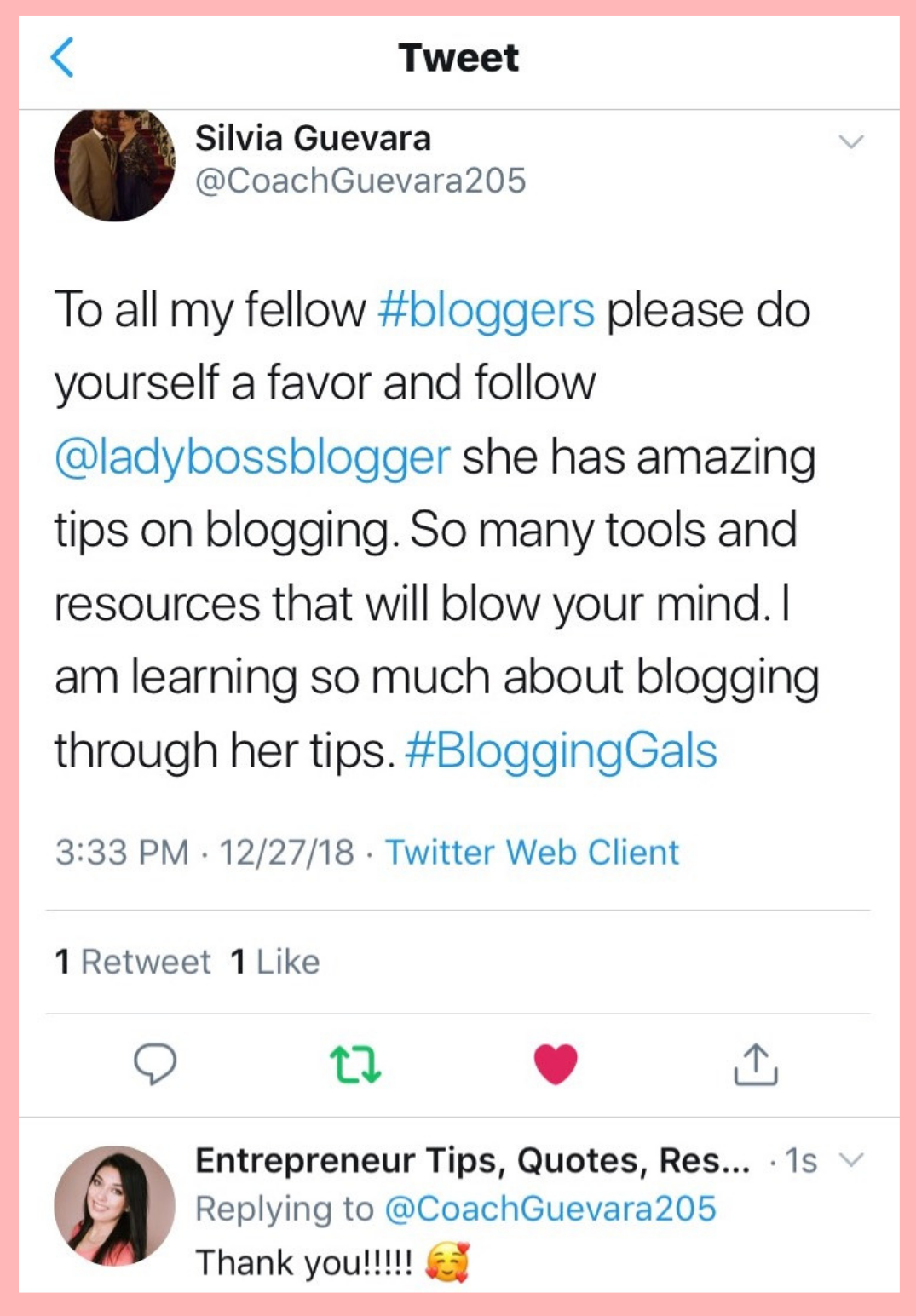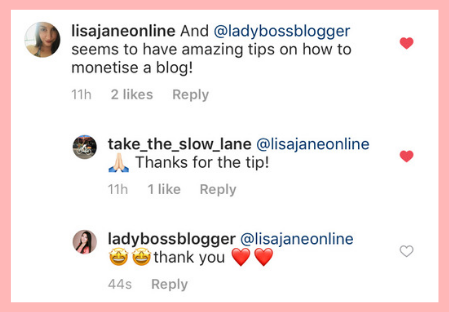 Did you know?
Only 9% of bloggers make between $1,000 and $10,000 a month and just 4% make over $10,000 a month... the vast majority makes less than $3.50 per day or nothing at all.
My goal is to get you into that 9%, but in order to do that, the correct FOUNDATIONS must be in place.
You can have a beautiful blog and have tons of traffic... and have ZERO INCOME coming from it - this is where the majority of current bloggers without a plan are at.
It's less about traffic when starting out, you must have a STRATEGY in place before you try for all that traffic so that your FOUNDATIONS are set and you know what the heck you're doing. ;)
Additionally, if you want to succeed as a blogger, pick up this mantra: "IF YOU WANT TO BE SUCCESSFUL, BE CONSISTENT."

85% of bloggers struggle to stay consistent with their blogs.
Why? Two reasons;
They don't prioritize blogging over their other activities.
They don't have a blogging community.
Start thinking of blogging as a communal thing instead of just a personal one... I'm here to help!
The answer to the question Vicky asks below is YES PLEASE!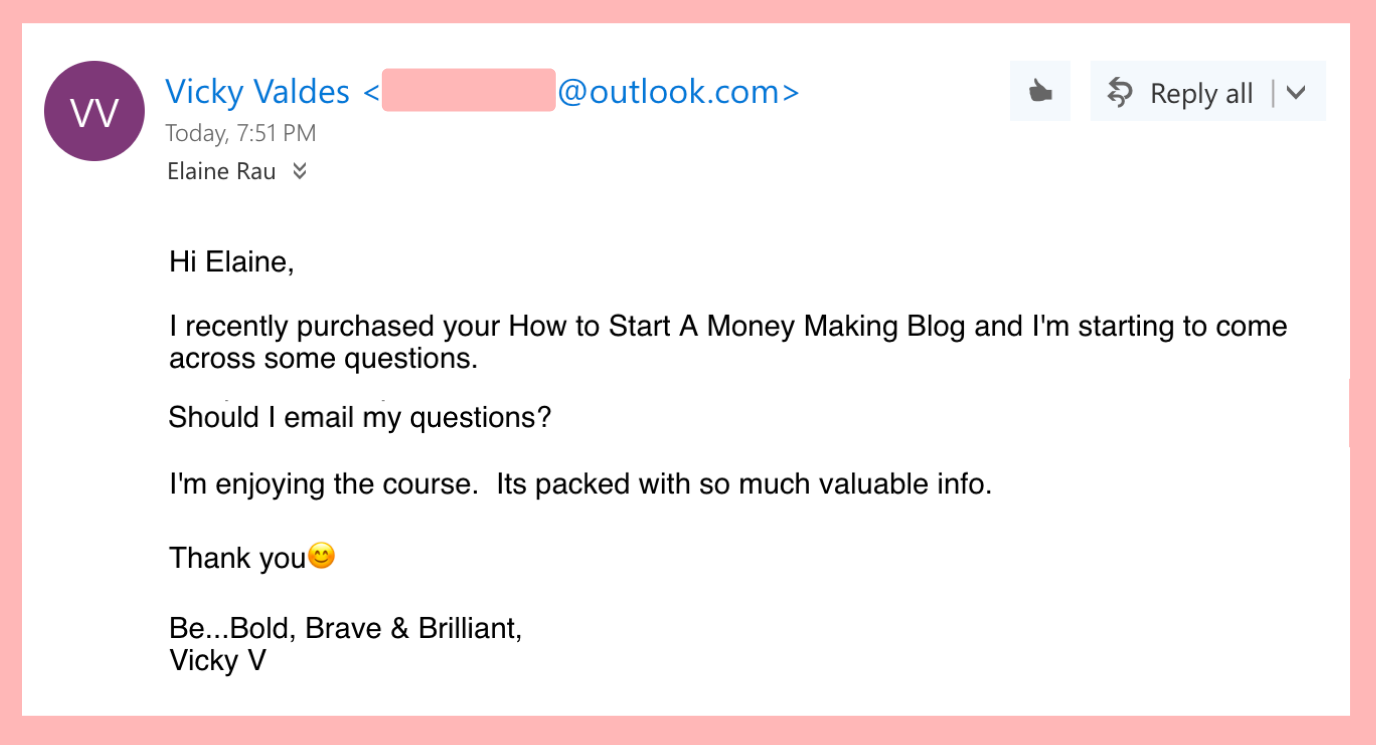 Blogging is like trying to lose weight.
It takes time and requires motivation, concentration and dedication.
What is the most efficient way to lost weight?
When you have a personal trainer or accountability partner to help you along the way.
What is your biggest asset in life?
YOUR TIME.
It's the one thing you can't "make more of" or "get better at".
How can you use your biggest (yet limited) asset to build another asset?
Don't waste your precious time!!!
Learn from those who have gone before you... who want to help you (this is key).
Blogging is a SKILL you can DEVELOP with the right training.
Starting a blog is the best decision you can make towards living a happier and financially free life...
IF you know what you're doing.
It's a TON of work and the "happy and free part" won't happen tomorrow, but if you start TODAY I can guarantee you won't regret it.
Plus seriously, if you really truly learn nothing, return it within 30 days and find a better course suited for you.
I had no idea the opportunities that blogging would bring me until I bought my website, LadyBossBlogger.com less than 2 years ago.
Think two years from now, where do you want to be?
Will anything change if you don't take action to learn something new?
NOTHING comes from INACTION.
A dream will stay a dream unless it's FORMED into your reality.

If you do nothing at all, at least take the NICHE QUIZ I have created so you're one step closer to knowing what you want to blog about!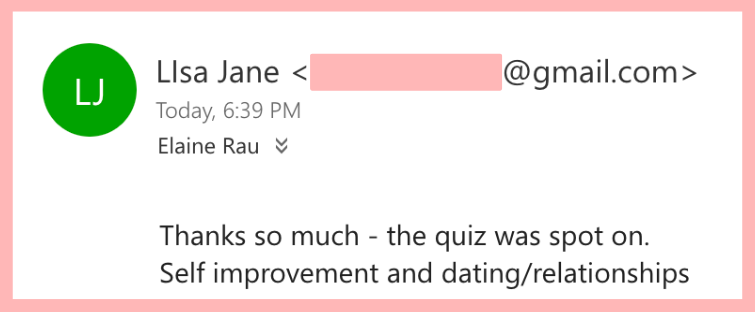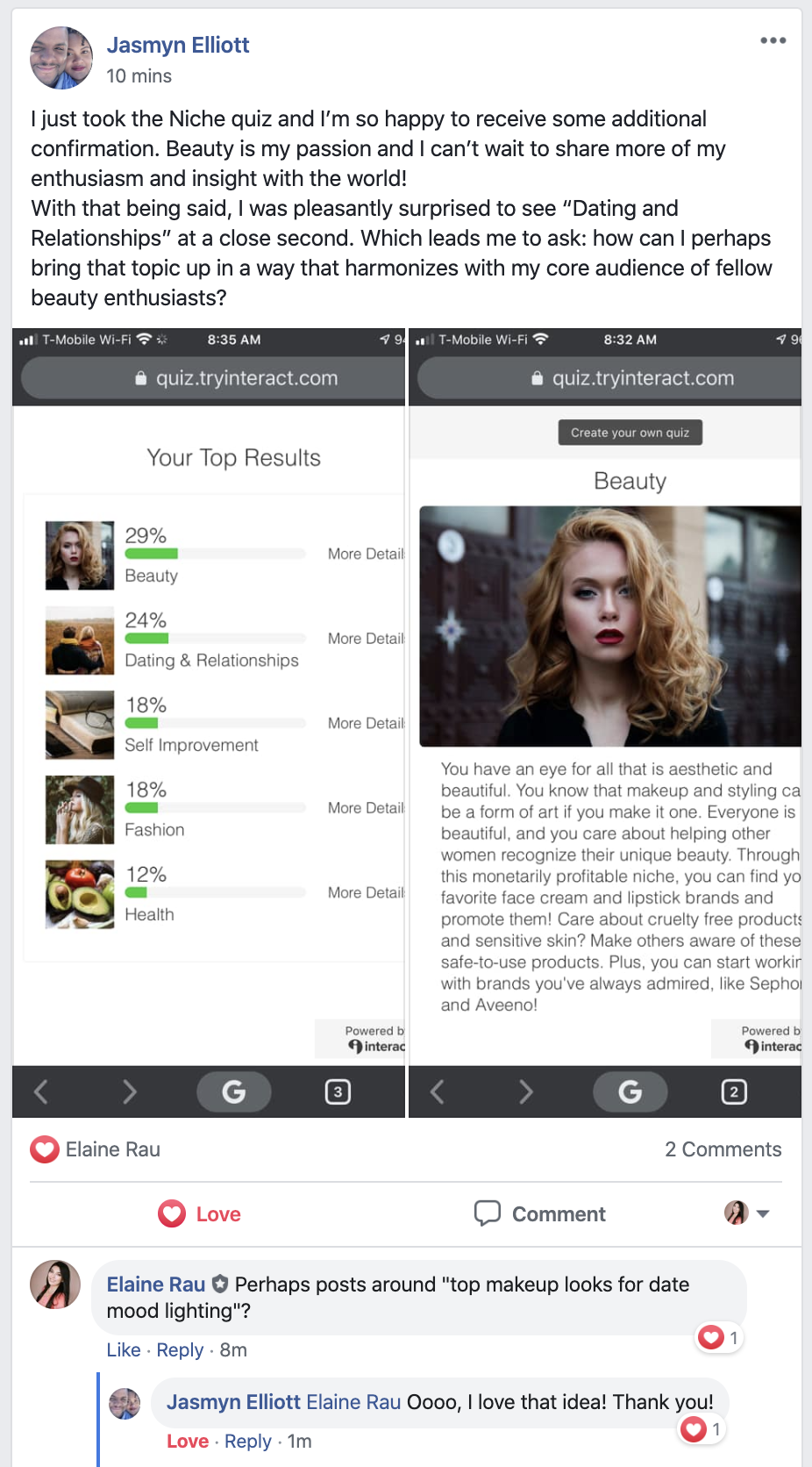 The beautiful thing about blogging is that it isn't something you can "fail at"... IT IS WHAT YOU MAKE OF IT.
In other words, the more you put into it, the more you'll get out of it.
And the best way to learn quickly is from someone who has gone before you to show you the ropes so you're not just spinning your wheels.
THAT, my friends, is the KEY to working SMART, not just HARD.
Vicky was spinning her wheels since 2012... until this course! You don't have to go about blogging all by yourself, get this course and get paired with an accountability partner too!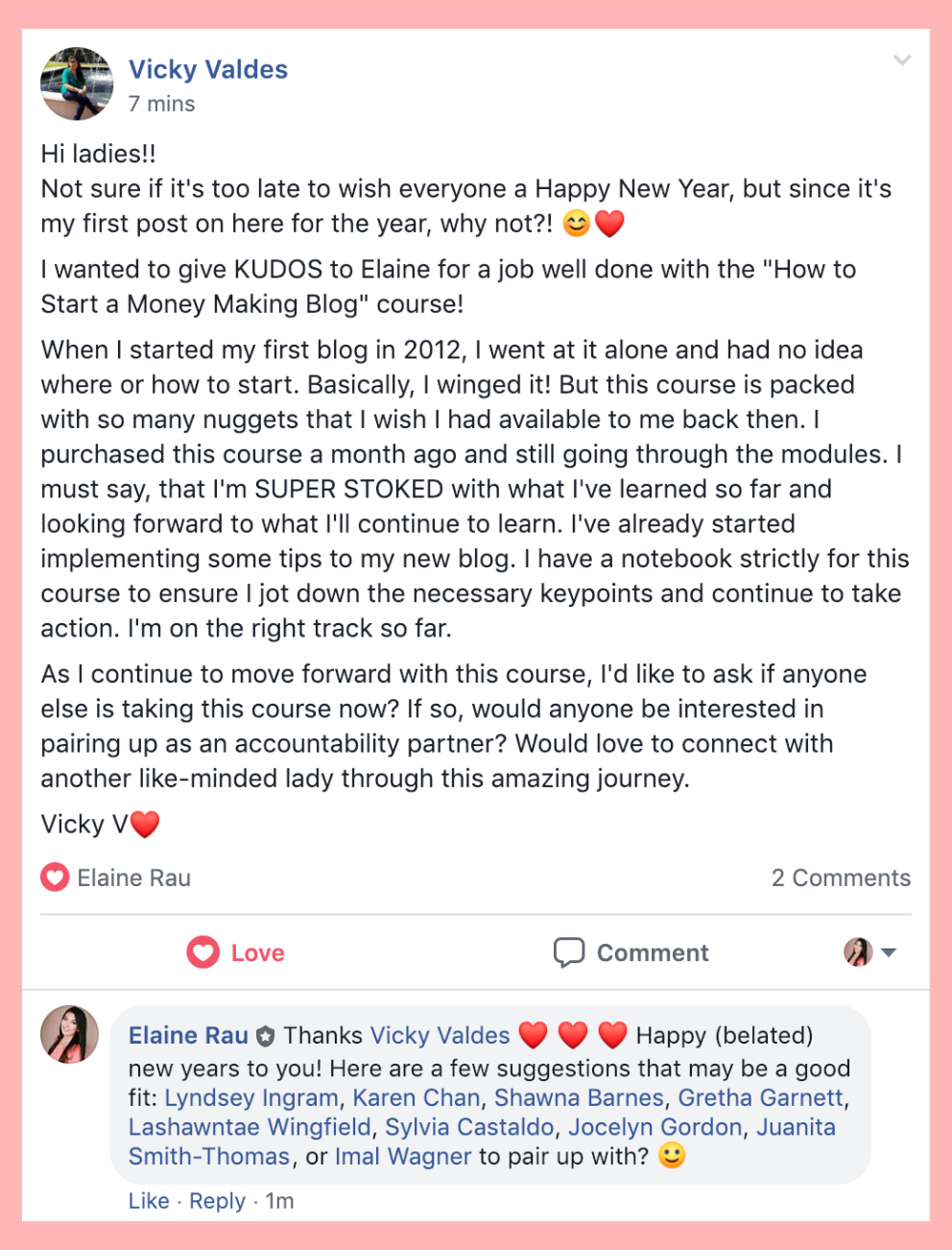 It's imminent that the FOUNDATION of your blog is set up CORRECTLY so that you CAN monetize it.

And that is what I'm here to help you with!
Once you're done with the course, you can become an affiliate if you'd like (you'll learn how to master affiliate marketing in the course) and make 40% from anyone who purchases this course through your link - that is an immediate potential income stream wink wink ;)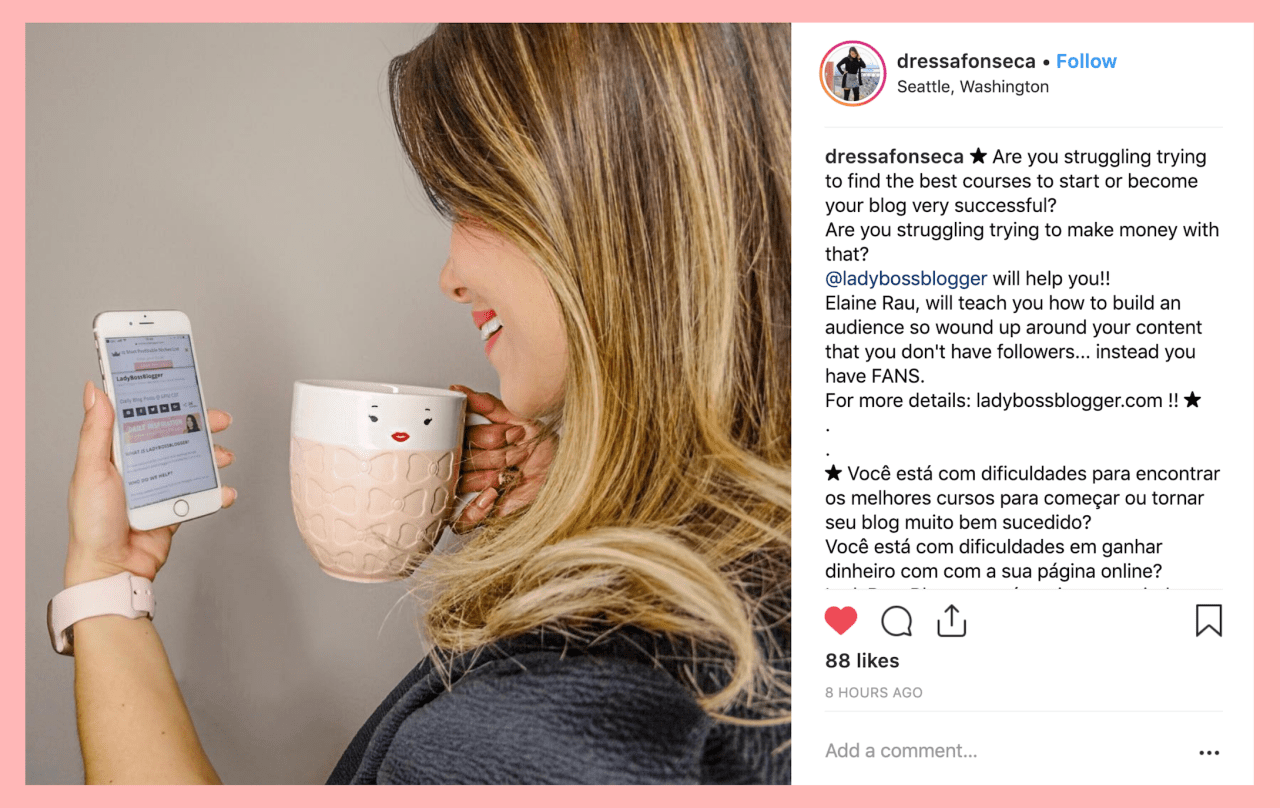 Are You Ready? Let's begin!
SNEAK PEEK COURSE CURRICULUM:
1. Introduction
2. Discover Your "Why"
3. Find Your Niche
4. Claim Your Blog Domain Name
5. Create Your Target Audience
6. Design Your Brand
7. Set Up Email Marketing Strategy
8. Blog Marketing Strategy: Social Media Foundations
9. Learn WordPress Basics
10. SEO Best Practices
11. Curate Strategic Content
12. How To Make Money Blogging
13. Understand The Legal Aspects
14. How To Promote Your Blog + Brand
15. Conclusion
16. Bonuses
Read our 5 star testimonials on Facebook if you're still unsure ;)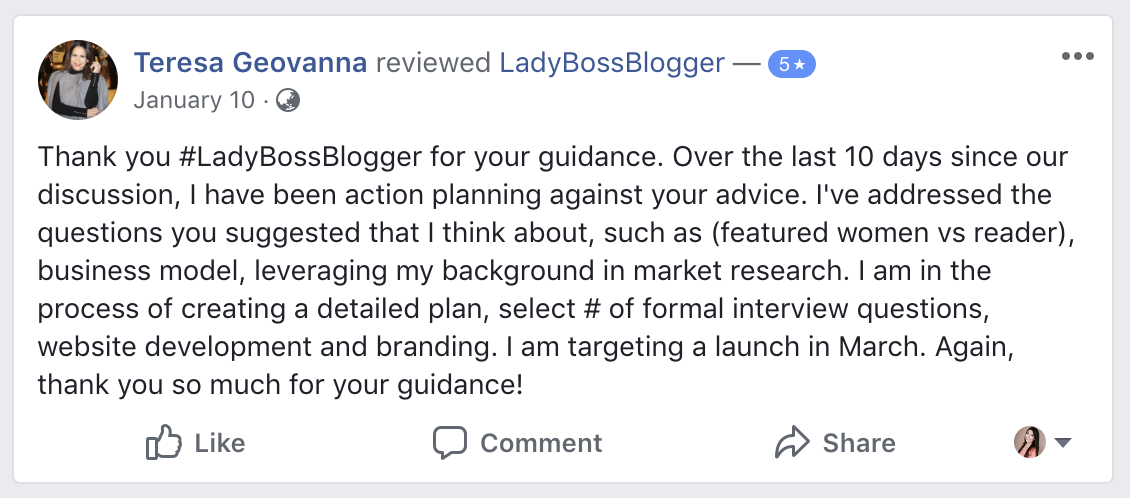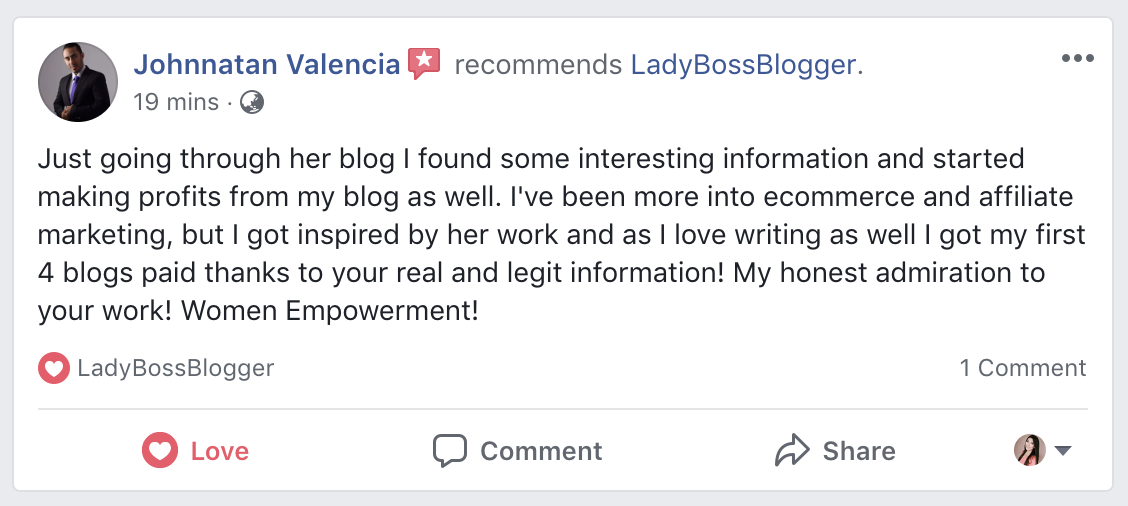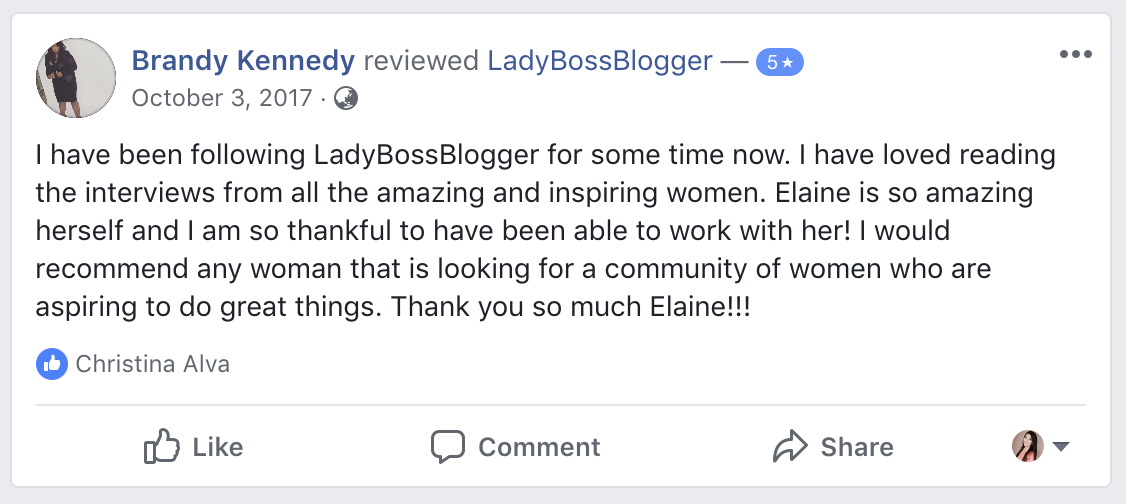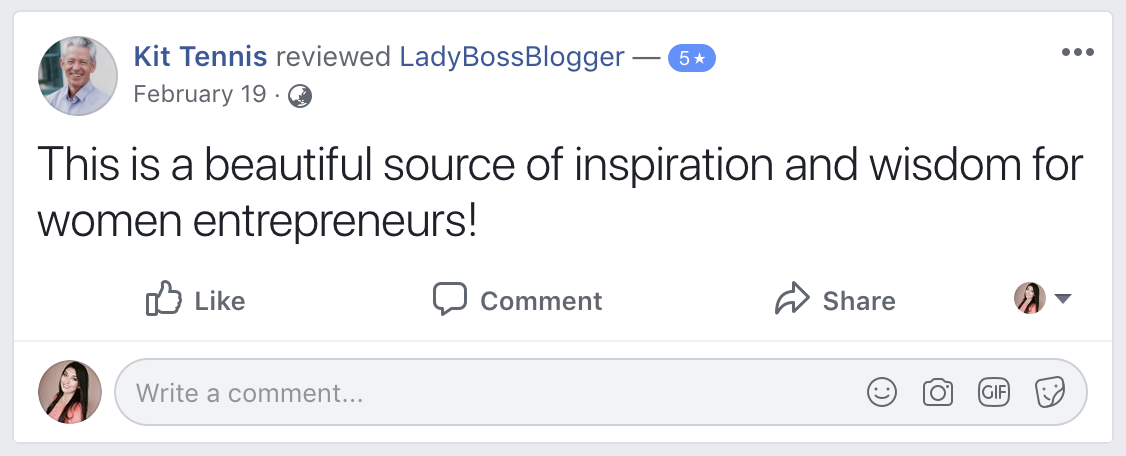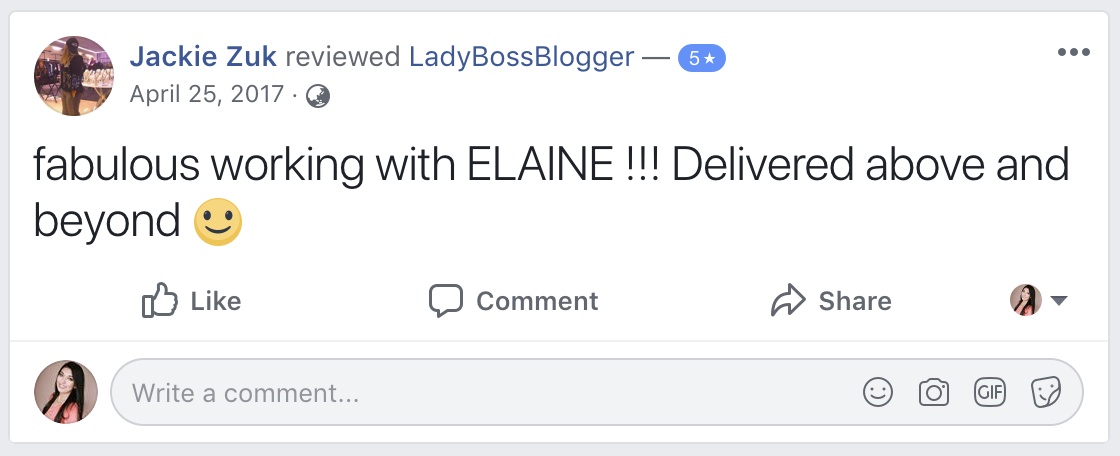 Your Instructor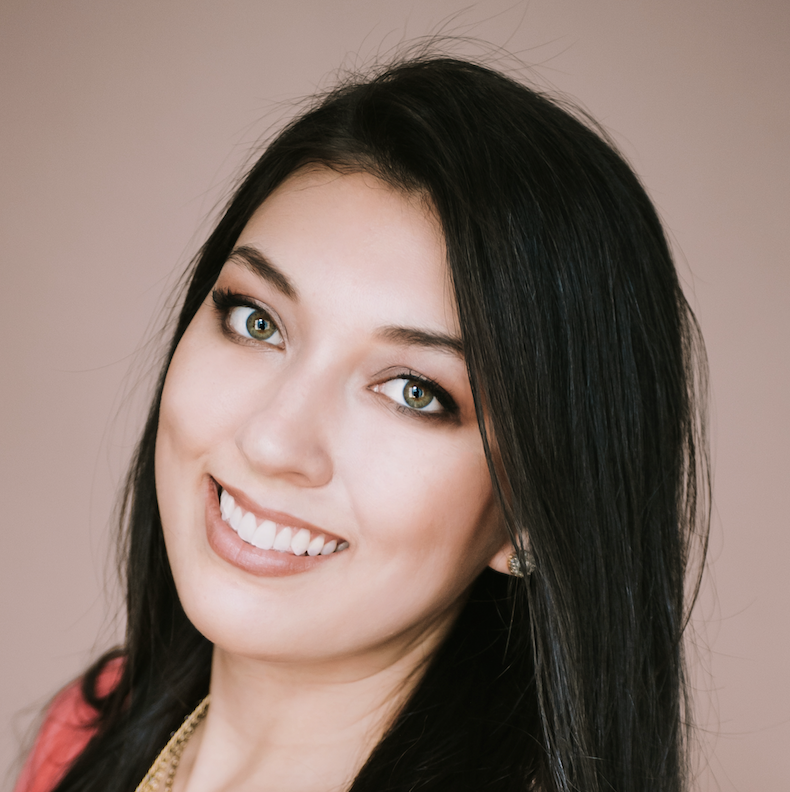 Elaine Rau lost her brother-in-law, her job, and her home all in one week. Stuck in a third world country with no job opportunities, she had to learn how to make an income online... ASAP. So she spent her last bit of savings and invested in a blog domain: LadyBossBlogger.com.
Since it's conception, LadyBossBlogger has garnered a massive audience of 150K in under 2 years. It's a platform that helps female entrepreneurs learn how to start, grow and scale their own online businesses. She has been featured on the Huffington Post, Thrive Global, and over 100+ other websites, magazines and books.
Course Curriculum
2. Discover Your "Why"
Available in days
days after you enroll
3. Find Your Niche
Available in days
days after you enroll
Frequently Asked Questions
What format will the course be delivered in?
Written so you can read it any time without having to worry about headphones or clunky formatting. We do have video coming soon too in order to supplement the text.
When does the course start and finish?
The course starts now and never ends! It is a completely self-paced online course - you decide when you start and when you finish.
How long do I have access to the course?
How does lifetime access sound? After enrolling, you have unlimited access to this course for as long as you like - across any and all devices you own.
How quickly will I get results?
Depends on how quickly you go through the course and implement the strategies, but generally you'll start seeing results in a few months.
What if I am unhappy with the course?
We would never want you to be unhappy! If you are unsatisfied with your purchase, contact us in the first 30 days and we will give you a full refund.
It's a lot of money... is it really worth it?
Most successful bloggers charge $200/hour for 1-on-1 coaching. How important is living a financially free and independent life to you? The fastest way to get from point A to point B is by having a mentor to show you exactly how to get to where you want to go.
Can I find this information for free online?
Nope! The information you'll find online skims the surface, there is a reason why people sell courses because they don't give away their best information for free. If you want deep blogging knowledge (that actually works) it's in this course.
Do you ever update the course?
Yep! As the blogging industry morphs and changes, the course will too. This is why I love online courses because unlike physical books, they can be updated and distributed immediately.