I got this question from Sarah yesterday:


And my response was:
When you start working with brands, they actually grow your account for you because they share your content with their audience.
You don't need a certain number of followers before you start working with brands, start learning how to work with brands FIRST and your AUDIENCE will actually grow as a result...
That is how you GROW YOUR INSTAGRAM following and GET PAID DOING SO.
Another thing to keep in mind is that...
Followers do not equal dollars.
The right strategies = $.

You may have 2 followers and be making $0 on social media.
You may have 200,000 followers and STILL be making $0.
You may have 2,000 followers and be making $2,000 per month.
You may have 2,200 followers and just starting your influencer journey like Maria below...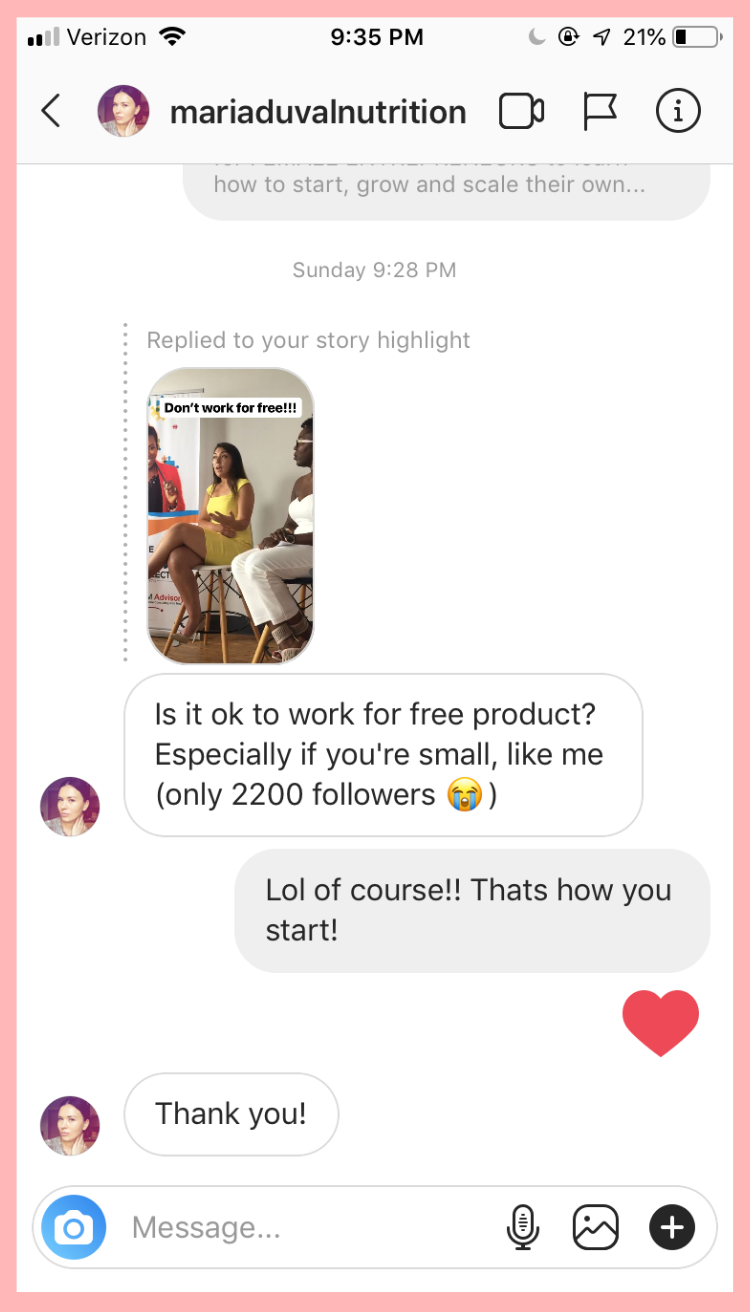 It's not about how many followers you have...
It's about WHO is in your audience and HOW you influence them.
Of course having a big following is also important, but more importantly:
You need to know the right TECHNIQUES and implement the right STRATEGIES.
But even MORE importantly, you need to do them in the right order, which is why not everyone with a massive following is actually making money.

I had a student with 143K followers and another with 11K followers who both made their very first influencer dollars after taking this course.
Here is another student who went from 0-20 brand deals in one week!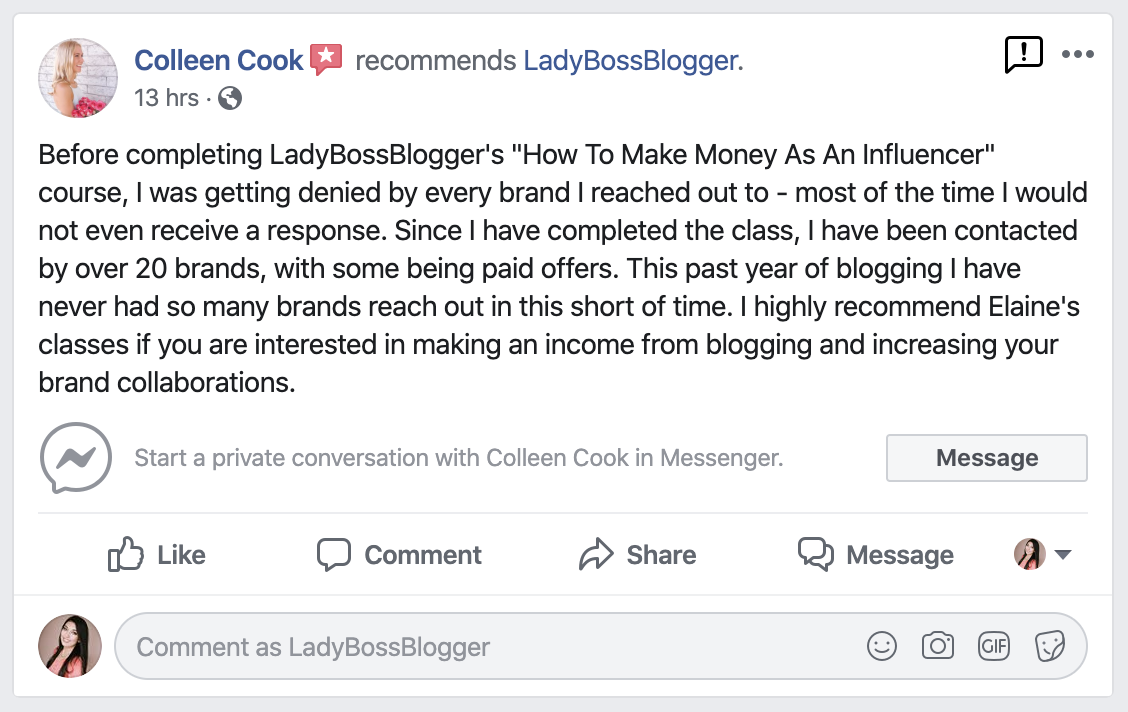 Now, it's one thing to make a couple hundred on an influencer campaign here and there, it's a whole other thing to actually MAKE A LIVING ONLINE.
I'm not here to just teach you how to get those one-off campaigns, of course you'll learn how to do that too because that is how you start, but I'm here to teach you how to build a SUCCESSFUL ONLINE BUSINESS so your "influencer status" isn't dependent upon your following per se.
When you have a...
1. Business plan
2. Marketing strategy
3. True follower growth techniques
4. Entrepreneurial mindset
This is what separates influencers that make good money versus ones that scrape by.
At the end of the day, I want to help you achieve actual results.
What do I mean by that?
The REASON BEHIND WHY you want to become an influencer is probably because...
1. You want to transform your life
2. You want to make more money
If that's what you want, that's what I'm here to help you do, but in order to achieve those things, you're going to need to change your mindset and shift your focus to becoming a small business owner in addition to becoming an influencer.
In my course I'm going to teach you how to build a loyal following of FANS not FOLLOWERS.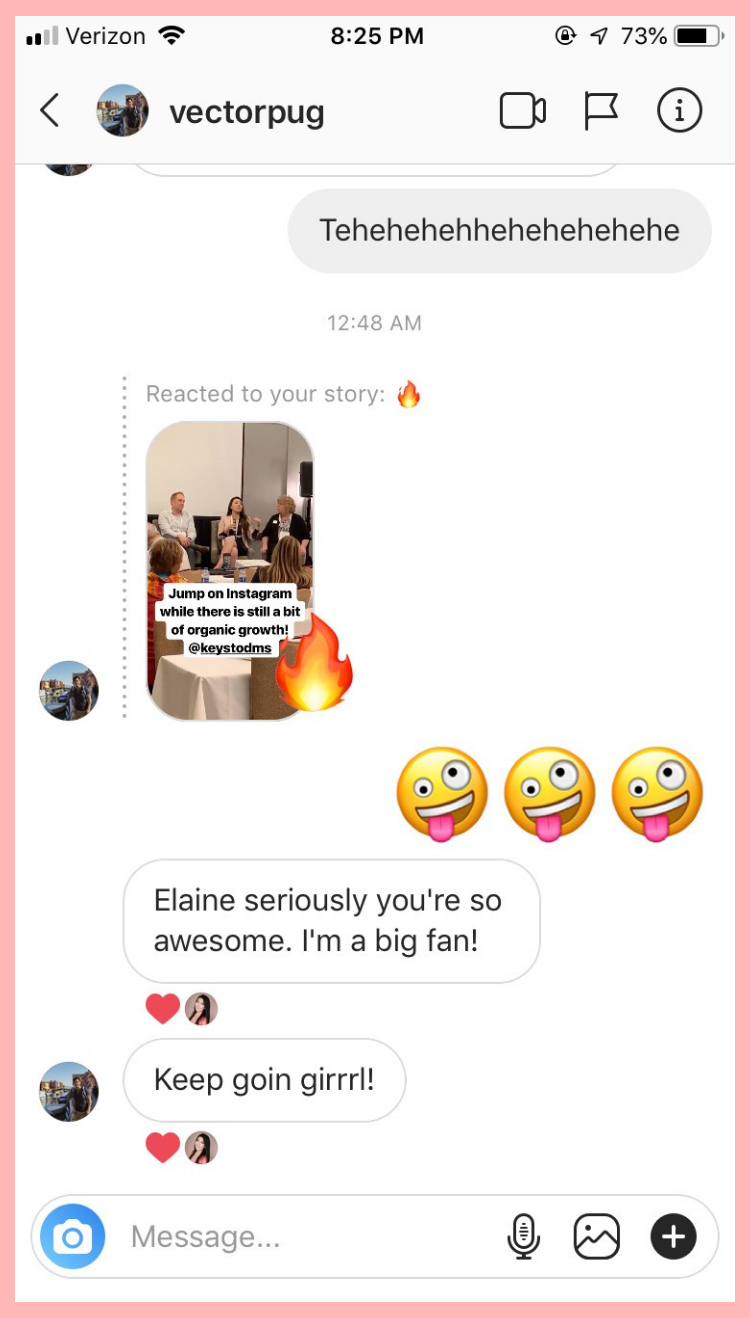 MINI LESSON #1: Focus on creating raving FANS, not on increasing random FOLLOWERS.
Most everyone has at least one Instagram or blogger crush these days right?
And you want to know something?
THAT PERSON COULD BE YOU!
Normal every day people are becoming the new "celebrity". For example, I couldn't help but notice that Melyssa Griffin (a super influential blogger that made $1 million in sales by the time she turned 27) actually re-pinned my content about influencers!!!
The cool thing is that just a few years ago she was a 'normal' person.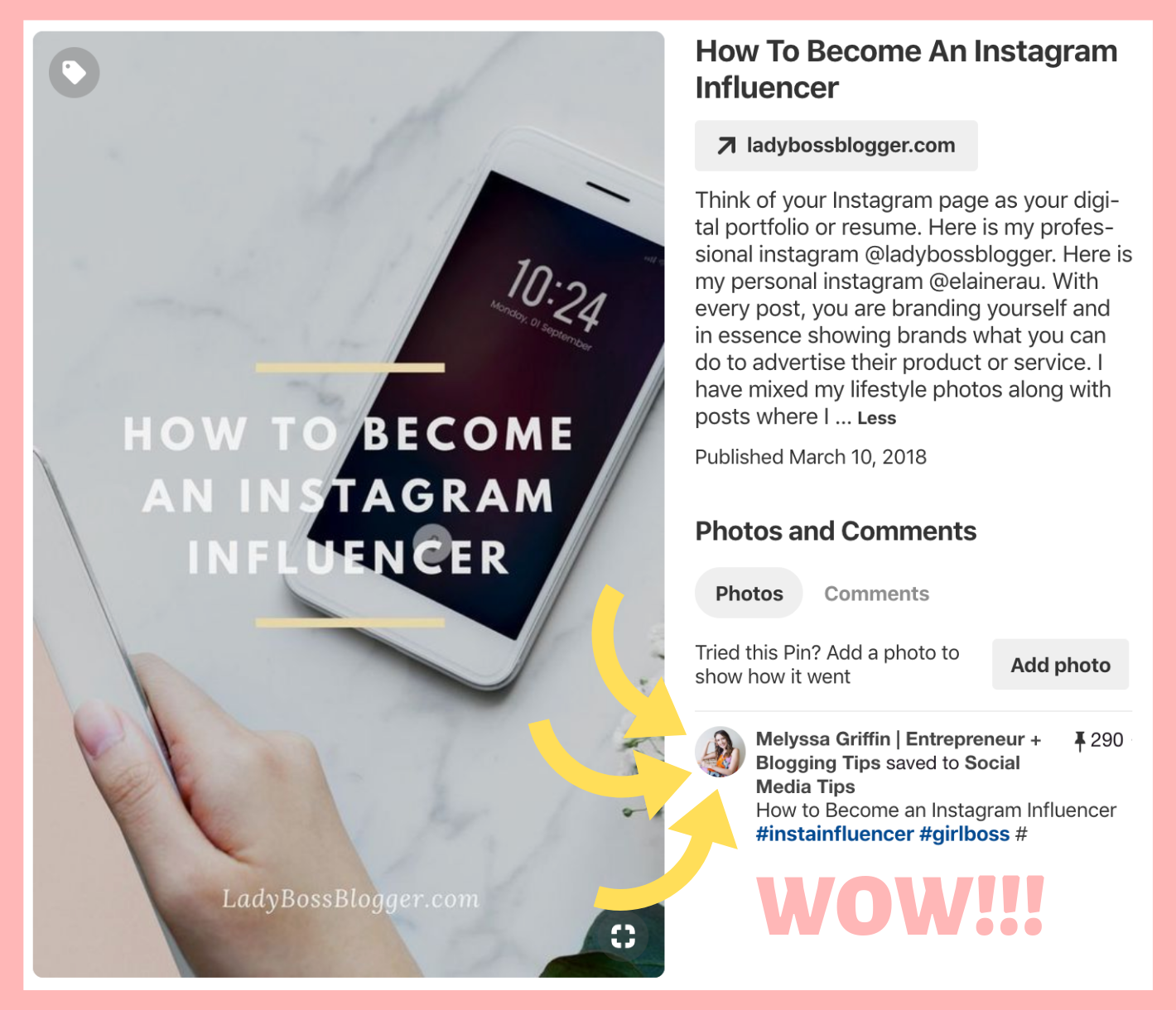 I remember the first time I got a call from a self-proclaimed "fan girl"... I was STUNNED. I honestly couldn't believe she was gushing about ME and my content?!
She said she loved my content because it gave her RESULTS.
She had just completed my "How To Start A Money Making Blog" course and was able to quit her job because of it!
Here is another one of my students who has enrolled in 2 of my courses:

Here is another happy student and LadyBossBlogger FAN:

Why are brands so willing to throw money at influencers?

Because people are paying less attention to what's on TV, magazines, newspapers and more attention to what's on personal blogs, social media and YouTube.
Micro influencers are on the rise.

Right now the rules to "influencer marketing" are still being made, so get in on the ground level and be a part of the group that MAKES THE RULES.

While receiving free product from companies is the way to start, you ultimately want to start earning passive income, which is what I will be teaching you in the course.
Here are the steps you will go through:
1. Grow a NICHE following
2. Get free product in exchange for content
3. Get paid for your posts
4. Make substantial money for brands as an affiliate
5. Build a sustainable business and make passive income
I got paid $100 by Intel for ONE TWEET when I had just 8K followers.

How did I get that deal?

They asked me how much I wanted for it and I said $100 and I GOT IT.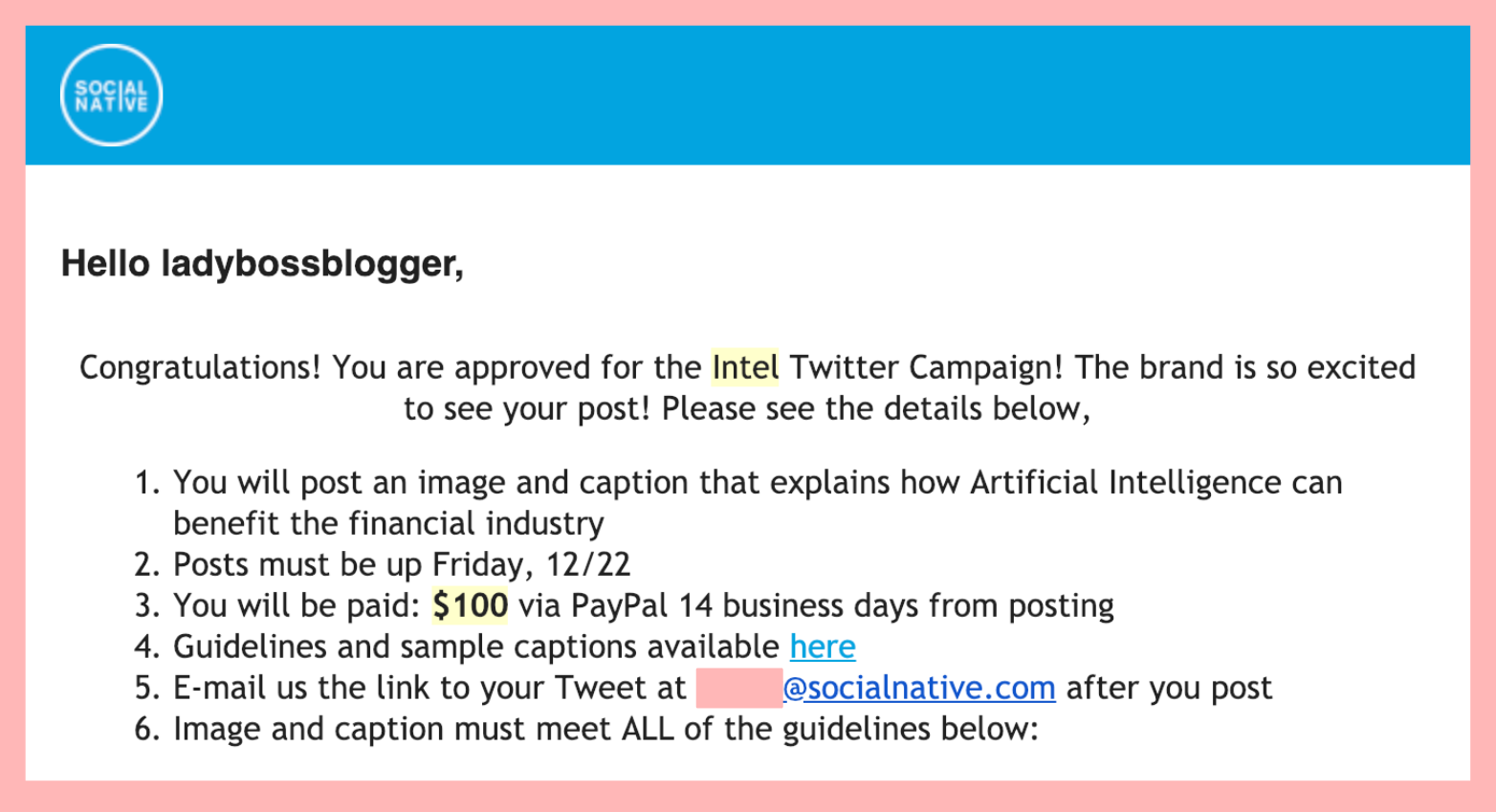 MINI LESSON #2: Big brands pay to tap into your AUDIENCE, which is why it's crucial to learn how to craft the most enticing and engaged audience to get paid well.

Your audience consists of the people who follow you on social media as well as your email subscribers. The more in line your audience is with the brand you want to work with - the more opportunities you'll get.
Even if brands don't normally work with influencers, such as the example below, if you have a solid audience, they will change their minds just to work with you specifically!

MINI LESSON #3: Having social media is not enough, you need a blog too.
80% of brands look for influencers with blogs.
Why?
Because bloggers not only have influence over their audience, they have influence on GOOGLE (in other words, a much larger audience than their numbers on social media).
In the very beginning, companies will ask to swap product for posts, then as you start building an influencer profile, you can start charging for your posts in addition to getting free product!
Plus, the brand below actually found me via my blog, not my social media!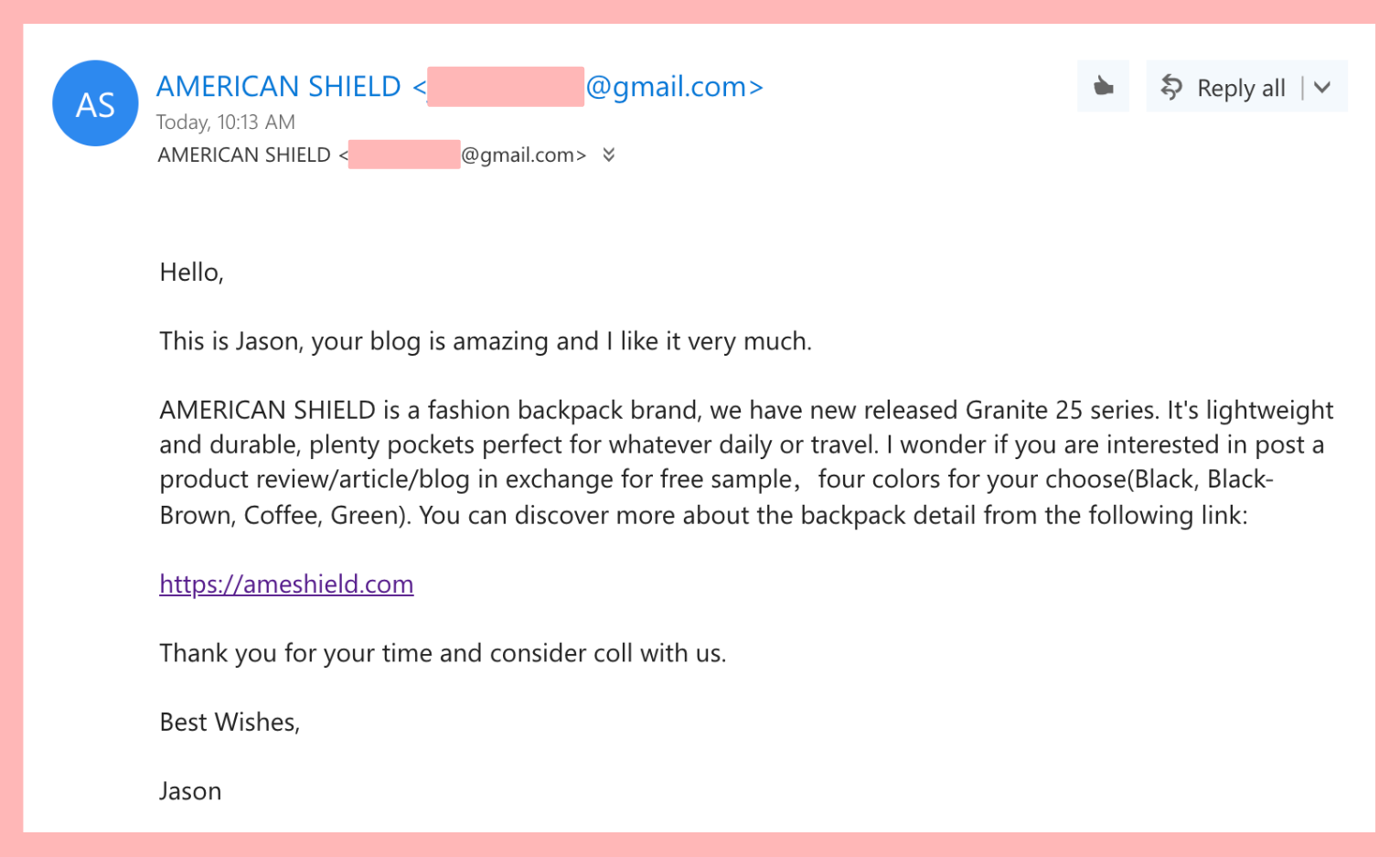 MINI LESSON #4: There are 3 main types of influencers out there...
1. Ones that ENTERTAIN
2. Ones that EDUCATE
3. Ones that DO BOTH
How you create an audience for each differ, but the strategies and techniques are the same, which is what you'll be learning in this course.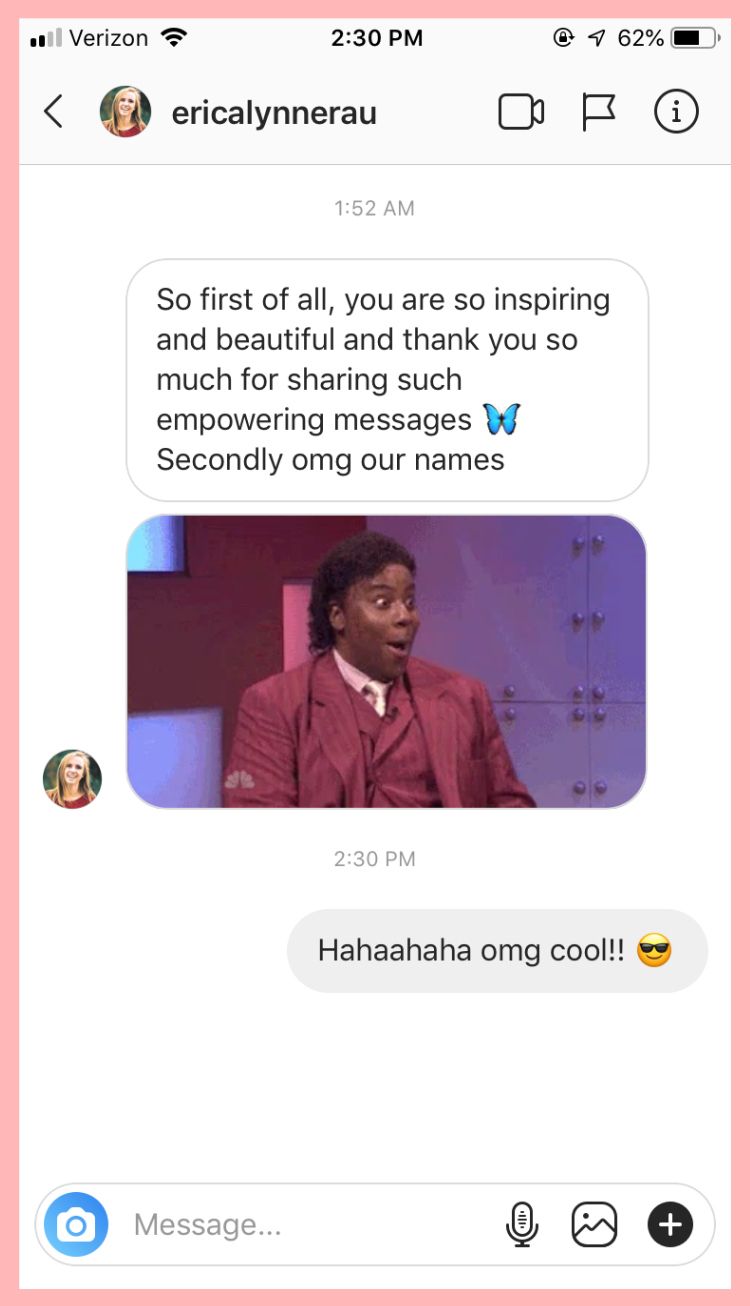 MINI LESSON #5: Being an influencer is all about building trust.
When people trust your OPINION and base their DECISIONS on it... you're officially an influencer.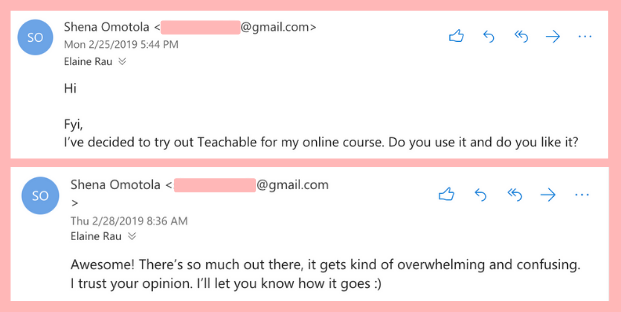 Ready for more lessons where you'll actually learn the steps to becoming an influencer and MONETIZING YOUR INFLUENCE
Sign up for class let's do this!!!
Try this course out for 30 days, if you seriously learn nothing, return it and get your money back.
But if you buy it, like it, do the work I have outlined for you and learn from it... it will change your life.
Think two years from now, where do you want to be?
Will anything change if you don't take action to learn something new?
NOTHING comes from INACTION.
A dream will stay a dream unless it's FORMED into your reality.
The beautiful thing about becoming an influencer is that it isn't something you can "fail at"... IT IS WHAT YOU MAKE OF IT.
In other words, the more you put into it, the more you'll get out of it.
And the best way to learn quickly is from someone who has gone before you to show you the ropes so you're not just spinning your wheels.
THAT, my friends, is the KEY to working SMART, not just HARD.
And that is what I'm here to help you with!
What is your biggest asset in life?
YOUR TIME.
It's the one thing you can't "make more of" or "get better at".
How can you use your biggest (yet limited) asset to build another asset?
Don't waste your precious time!!!
Learn from those who have gone before you... who actually want to help you (this is key).
Ready? Let's begin!
Also join my Facebook Group For Female Entrepreneurs + Bloggers.
Read this blog post review from a student:
https://colleenccook.com/how-to-make-money-as-a-blogger-influencer-ladybossblogger-course-review-giveaway/
Speaking at Bloggy Con about How To Become A Successful Influencer:
Read our 5 star testimonials on Facebook.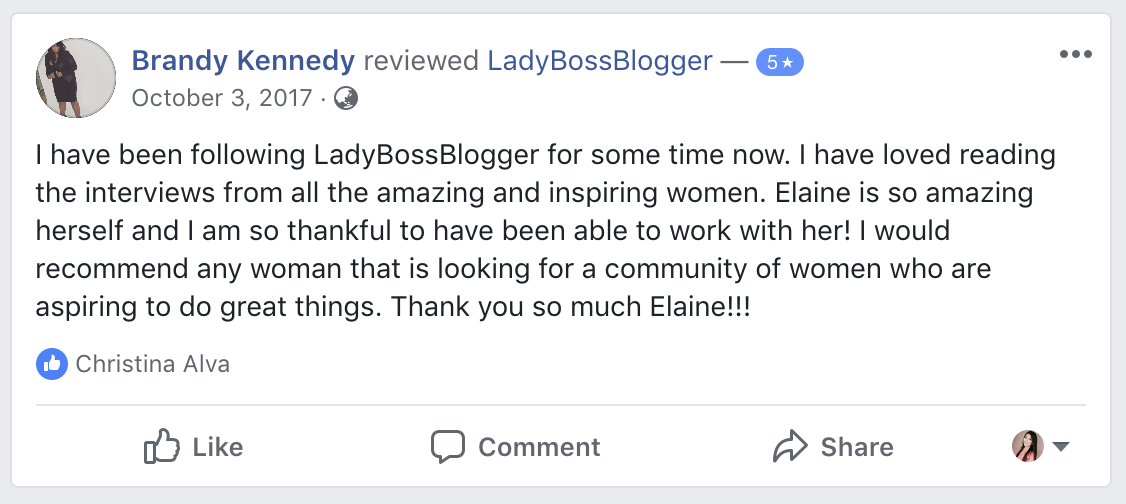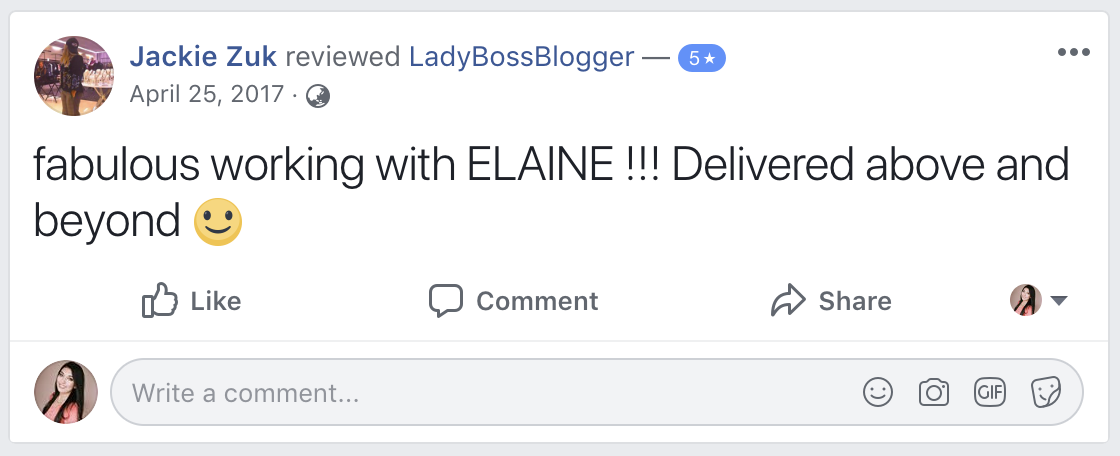 Your Instructor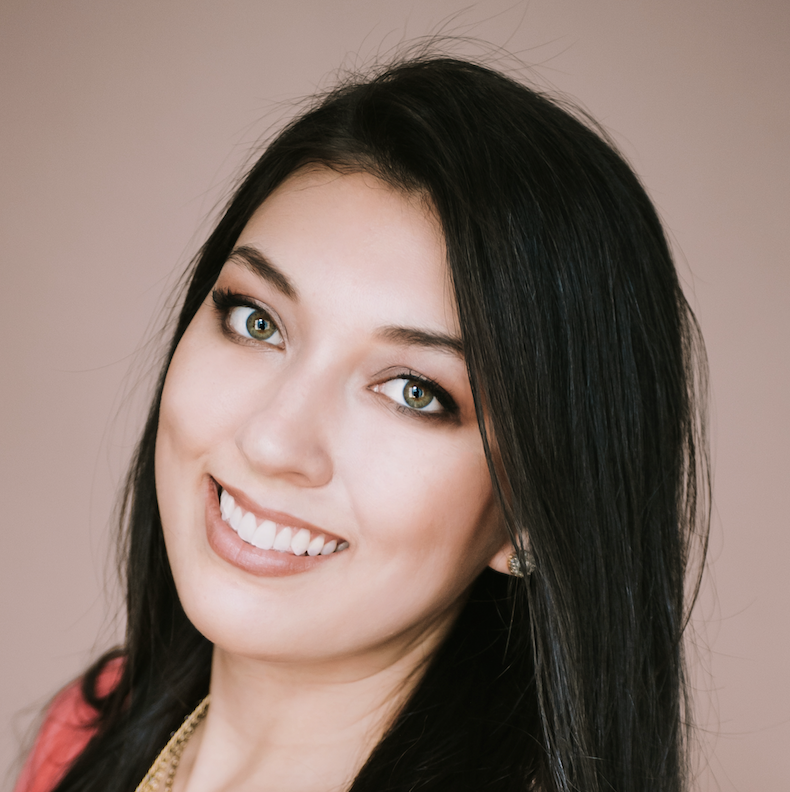 Elaine Rau lost her brother-in-law, her job, and her home all in one week. Stuck in a third world country with no job opportunities, she had to learn how to make an income online... ASAP. So she spent her last bit of savings and invested in a blog domain: LadyBossBlogger.com.
Since it's conception, LadyBossBlogger has garnered a massive audience of 150K in under 2 years. It's a platform that helps female entrepreneurs learn how to start, grow and scale their own online businesses. She has been featured on the Huffington Post, Thrive Global, and over 100+ other websites, magazines and books.
Frequently Asked Questions
What format will the course be delivered in?
Written so you can read it any time without having to worry about headphones or clunky formatting. We do have video coming soon too in order to supplement the text.
When does the course start and finish?
The course starts now and never ends! It is a completely self-paced online course - you decide when you start and when you finish.
How long do I have access to the course?
How does lifetime access sound? After enrolling, you have unlimited access to this course for as long as you like - across any and all devices you own.
How quickly will I get results?
Depends on how quickly you go through the course and implement the strategies, but generally you'll start seeing results in a few months.
What if I am unhappy with the course?
We would never want you to be unhappy! If you are unsatisfied with your purchase, contact us in the first 30 days and we will give you a full refund.
It's a lot of money... is it really worth it?
Successful influencers can charge 10K a post... would you like to learn how to do that? How important is living a financially free and independent life to you? The fastest way to get from point A to point B is by having a mentor to show you exactly how to get to where you want to go.
Can I find this information for free online?
Nope! The information you'll find online skims the surface, there is a reason why people sell courses because they don't give away their best information for free. If you want deep blogging knowledge (that actually works) it's in this course.
Do you ever update the course?
Yep! As the influencer industry morphs and changes, the course will too. This is why I love online courses because unlike physical books, they can be updated and distributed immediately.