Micro influencers are on the rise.

Right now the rules to "influencer marketing" are still being made, so get in on the ground level and be a part of the group that MAKES THE RULES.

I got paid $100 by Intel for ONE TWEET when I had just 8K followers.

How did I get that deal?

They asked me how much I wanted for it and I said $100 and I GOT IT.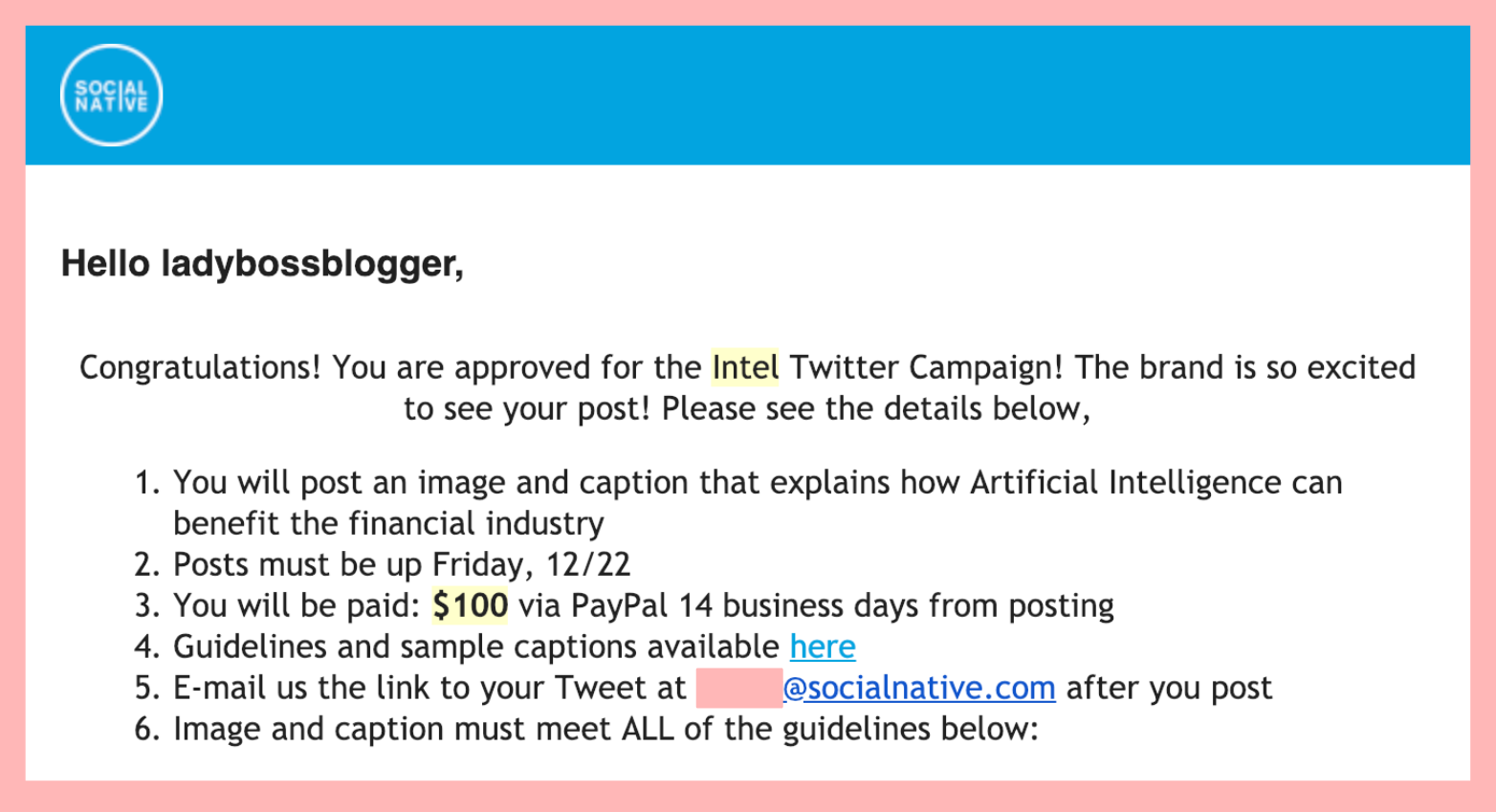 Why are brands so willing to throw money at influencers?

Because people are paying less attention to what's on TV, magazines, newspapers and more attention to what's on personal blogs, social media and YouTube.
Normal every day people are becoming the new "celebrity". For example, I couldn't help but notice that Melyssa Griffin - a super successful blogger that made $1 million in sales by the time she turned 27 - actually re-pinned my content!!!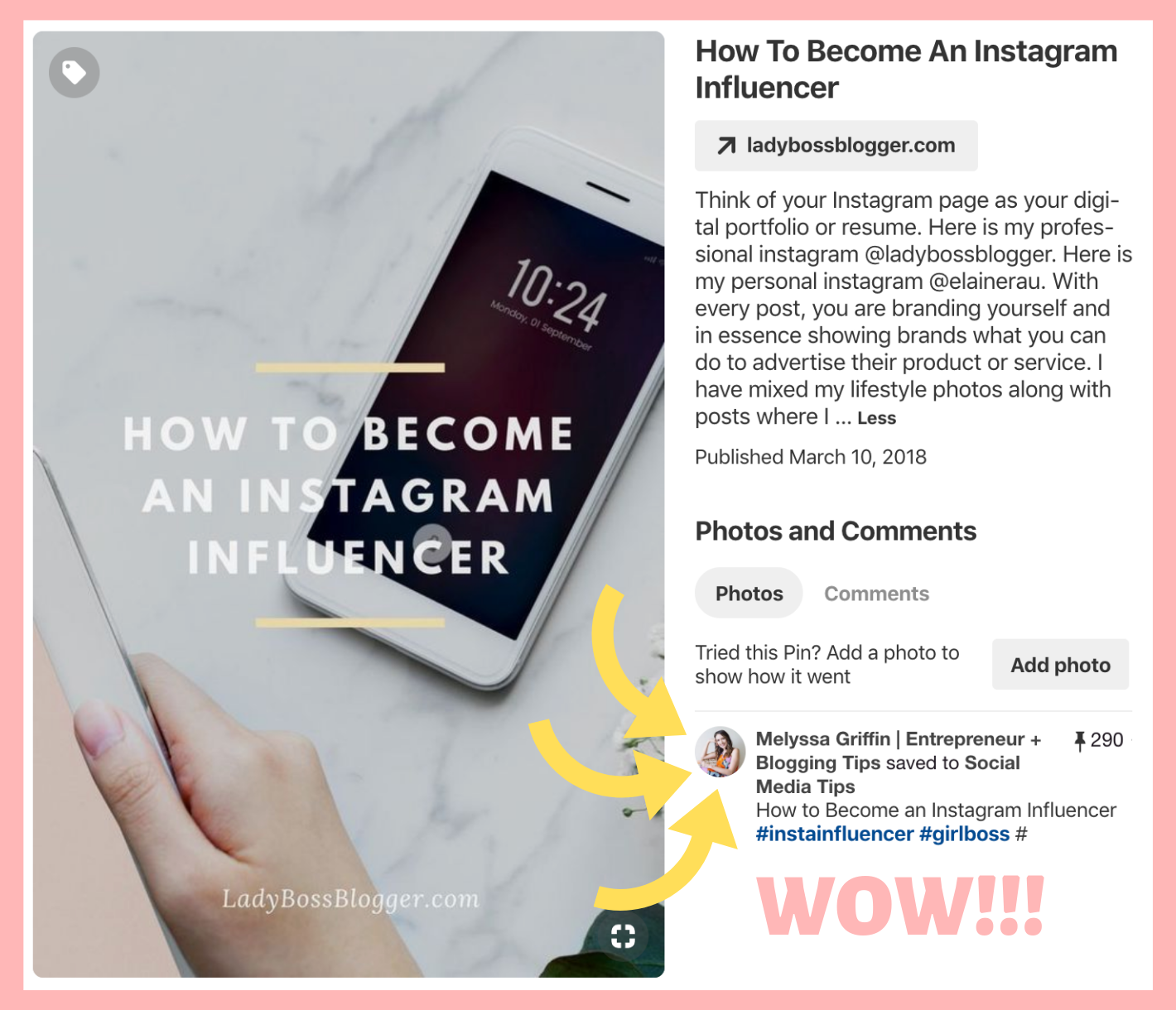 Most everyone has at least one Instagram or blogger crush these days right?
And you want to know something?
THAT PERSON COULD BE YOU!
In my course, I teach you how to build an audience so wound up around your content that you don't have followers... instead you have FANS.
MINI LESSION #1: Focus on creating raving FANS, not on increasing random FOLLOWERS.
I remember the first time I got a call from a self-proclaimed "fan girl"... I was STUNNED. I honestly couldn't believe she was gushing about ME?!
She said she loved my content because it gave her RESULTS. She had just completed my "How To Start A Money Making Blog" course and was able to quit her job because of it!
She is currently one of the top affiliates for my course, which has increased her blogging income since she was able to add it as another revenue stream!

MINI LESSON #2: Big brands pay to tap into your AUDIENCE, which is why it's crucial to learn how to craft the most enticing and engaged audience to get paid well.

Your audience consists of the people who follow you on social media as well as your email subscribers. The more in line your audience is with the brand you want to work with - the more opportunities you'll get.
Even if brands don't normally work with influencers, such as the example below, if you have a solid audience, they will change their minds just to work with you specifically!

MINI LESSON #3: Having social media is not enough, you need a blog too.
80% of brands look for influencers with blogs.
Why?
Because bloggers not only have influence over their audience, they have influence on GOOGLE (in other words, a much larger audience than their numbers on social media).
In the verybeginning, companies will ask to swap product for posts, then as you start building an influencer profile, you can start charging for your posts in addition to getting free product!
Plus, the brand below actually found me via my blog, not my social media!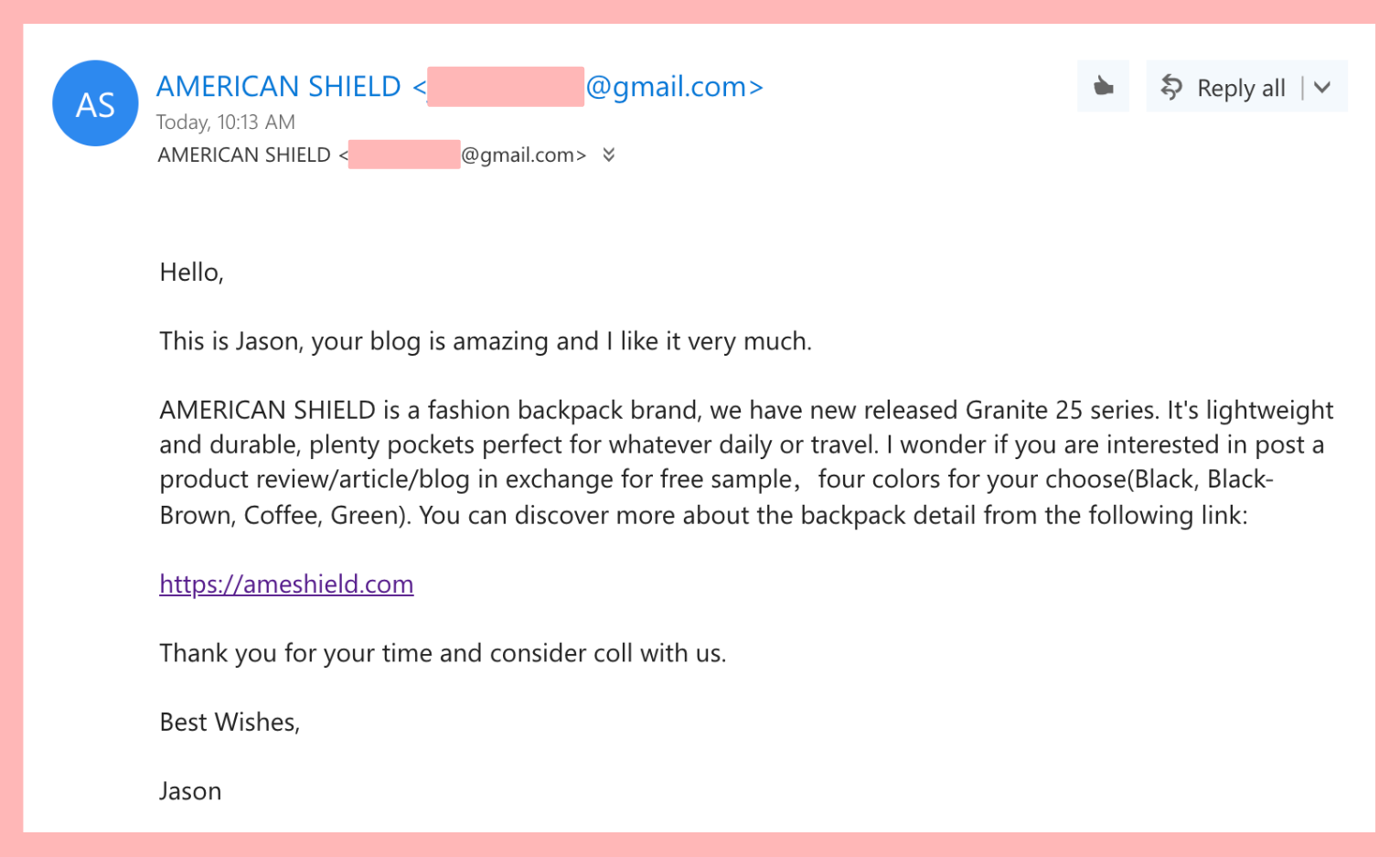 MINI LESSON #4: There are 3 main types of influencers out there...
1. Ones that ENTERTAIN
2. Ones that EDUCATE
3. Ones that DO BOTH
How you create an audience for each differ, but the strategies and techniques are the same, which is what you'll be learning in this course.

Ready for more lessons where you'll actually learn the steps to becoming an influencer and MONETIZING YOUR INFLUENCE?
Sign up for class let's do this!!!
Try this course out for 30 days, if you seriously learn nothing, return it and get your money back.
But if you buy it, like it, do the work I have outlined for you and learn from it... it will change your life.
Think two years from now, where do you want to be?
Will anything change if you don't take action to learn something new?
NOTHING comes from INACTION.
A dream will stay a dream unless it's FORMED into your reality.
The beautiful thing about becoming an influencer is that it isn't something you can "fail at"... IT IS WHAT YOU MAKE OF IT.
In other words, the more you put into it, the more you'll get out of it.
And the best way to learn quickly is from someone who has gone before you to show you the ropes so you're not just spinning your wheels.
THAT, my friends, is the KEY to working SMART, not just HARD.
And that is what I'm here to help you with!
What is your biggest asset in life?
YOUR TIME.
It's the one thing you can't "make more of" or "get better at".
How can you use your biggest (yet limited) asset to build another asset?
Don't waste your precious time!!!
Learn from those who have gone before you... who actually want to help you (this is key).
Ready? Let's begin!
Also join my Facebook Group For Female Entrepreneurs + Bloggers.
Read our 5 star testimonials on Facebook.